Microsoft started working on new operating system back in early 2011, codenamed Windows 8, which is successor of Windows 7 and upcoming version of Microsoft Windows. The first official confirmation of Windows 8 was made CES 2011 where Steve Ballmer said that Windows 8 is the biggest bet of Microsoft in 20 years, the main reason for this is, for first time Microsoft will be offering Windows for ARM microprocessors along with support for touch screens, mouse, keyboard & pen inputs.
To make it easy to interact on touch based devices, Microsoft will be offering totally new user interface dubbed as Metro UI, which has tile based interface and gets update with dynamic content. Unlike Windows 7, Microsoft has managed to keep control on leaks and not many Windows 8 builds were leaked, but following to the tradition of Windows 7 public betas, Microsoft did allow Windows 8 Developer preview for public download.
The Windows 8 Developer Preview was made available for download on September 13th 2011 at Windows Build conference. Since then it has been six months that no new build of Windows 8 is made available for public testing. In December 2011, at a special event in San Francisco, Microsoft announced that Windows 8 Consumer Preview will be released in late February 2012.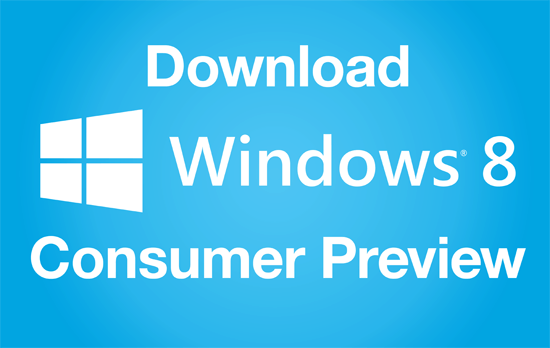 Finally after long wait, today at special event organized by Microsoft in Barcelona, Spain, Microsoft announced the availability of Windows 8 Beta for public and the obvious wait for Windows 8 Beta aka Consumer Preview is over now. As Microsoft Windows 8 Consumer Preview (32-bit and 64-bit) is available for download starting today, you can access direct download links at the bottom of this article.

Those new to Microsoft Windows 8, below are the list of features that you may expect and explore in Windows 8 Consumer Preview.
1. Metro UI Start Screen
2. Internet Explorer 10
3. New Lock Screen
4. Windows 8 Charms to quickly configure settings for individual apps
5. Snap Multi-tasking
6. Web Navigation by Touch
7. Two Touch Keyboards
8. Enhanced Copy Experience
9. USB 3.0 Support
10. Better Support for Multiple Monitors
Download Windows 8 Consumer Preview Links
Windows 8 Consumer Preview Build 8250 (32-bit) ISO.
(8250.0.WINMAIN_WIN8BETA.120217-1520_X86FRE_CLIENT_EN-US-HB1_CCPA_X86FRE_EN-US_DV5.ISO)
Windows 8 Consumer Preview Build 8250 (64-bit) ISO.
(8250.0.WINMAIN_WIN8BETA.120217-1520_X64FRE_CLIENT_EN-US-HB1_CCPA_X64FRE_EN-US_DV5.ISO)
For other languages you can download from here http://windows.microsoft.com/en-US/windows-8/iso
Here is how you can get Windows 8 Consumer Preview product keys ?
Check out how to install Windows 8 from USB drive and on VMware.