iOS 4.2.1 can be jailbreaked with Redsn0w 0.9.6b4 release yesterday. Do check out our guides to jailbreak iPhone 3G 4.2.1, iPod Touch 2G 4.2.1 & iPhone 3GS 4.2.1 which is untethered jailbreak. The next thing which most iphone jailbreakers will be looking for is the way to install cracked iPhone apps (.ipa).
AppSync, a popular app which patches MobileInstallation file on iPhone , iPod Touch & iPad in order to allow users to install .IPA manually without using iTunes has been updated to support recently release iOS 4.2.1.
AppSync 4.2 can be installed from Cydia required that you have already jailbreaked iOS 4.2.1. Here is small guide for those who don't know how to install AppSync on iOS 4.2.1.
How Install AppSync 4.2 on iOS 4.2.1
1. Launch Cydia App from your iPhone Springboard.
2. Tap on Manage Tab at the bottom of Cydia App
3. Now touch on sources as shown in below screenshot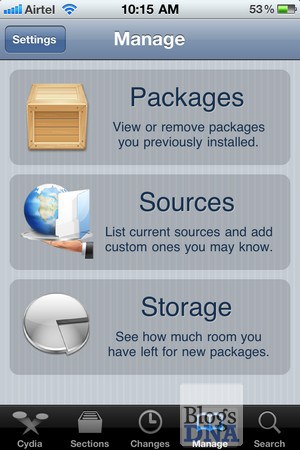 4. Now tap on "Edit", and then on "Add". You should now be prompted to enter a URL source as seen in the screenshot below. Type "http://cydia.hackulo.us" and click on "Add Source".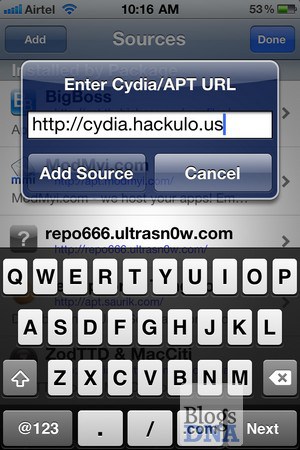 Now let the Cydia complete source adding process.
5. After Installation completes, tap on search tab of Cydia and source of "AppSync for OS 4.2" and tap on the Appsync app presented in search result and complete app installation process.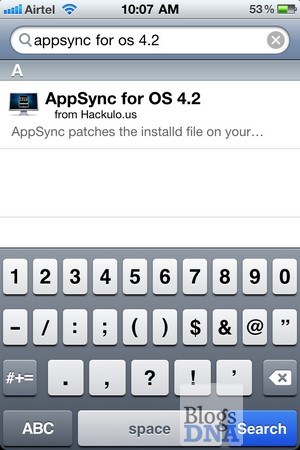 That's it, you should now be able install .ipa files manually on iOS 4.2.1.
Disclaimer Note: Blogsdna.com don't support or endorse piracy in anyway. This article is purely for educational purposes only. iPhone hacker community strongly opposes this app, so do we.
Stay tuned with us on Twitter or become fan of Blogsdna Facebook fan page for more on iOS 4.2.1 jailbreaking & unlocking.