Until now we have covered two apps Windows 7 Start Orb Changer and Windows 7 Start Button Changer with which you can instantly change default Windows 7 Start Button. However one issue with these apps is that it comes with set of 5-6 different Orbs which you can only change with default one.
If you want to create your own Windows 7 Start Orb/Button then you need Windows 7 Start Orb Creator (StartOrbZ). This is first alpha release of StartOrbZ which not only lets you to change Windows 7 Start Orb but also lets you to create from scratch and manage Orb collection.
Windows 7 Start Orb Creator (StartOrbz)
1. Perfect alpha bitmaps created!
2. Orbs are resized to the proper deminsions required by explorer. 4 total
3. Orb bio info like artist name and orb title are embedded into the images. This cannot be edited. I want all artists to get credit.
4. Import/Export Orb sets. Sorry but all the start orbs floating around right now will not work with StartOrbz.
5. Rating system. The more you apply an orb, the higher it gets rated. This is not changeable by the user.
6. Catergory system to easily manage their orbs
Windows 7 Start Orb Creator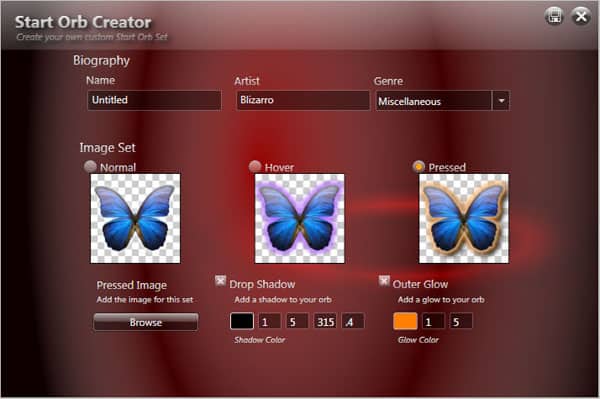 Download StartOrbz Windows 7 Start Orb Creator.
Source: TheWindowsClub