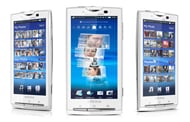 Few days back we had reported you about Gen Y DualBoot app for Windows mobile which lets you to dual boot Windows Mobile phone with Android. We had also reported about first Android Rom for Windows Mobile. If you are proud owner of Sony Xperia X10 and want to test android on your Xperia then here is XPEroid android rom for Sony Xperia phone.
XPEroid is Android Rom and brings Android 1.6 & Android 2.1 to your Xperia X1 Phone. The Rom is stable release. It might be slow at start but once fully loaded on your Xperia it will run fast. Couple of things still not working like Bluetooth, Camera, GPS but will be fixed soon.
Xperia X10 Running XPEroid Android Rom Demo Video
The procedure to install and running XPEroid on Xperia X10 is quite easy, check out below guide.
1. Download XPEroid 2.0.1 or XPEroid 1.6
2. Now extract XPEroid Rom into root of your sdcard
3. Hit "haret", and then your screen will show a millions text after that you will see an boot animation.
4. Just wait 5 – 10 minutes. (to long for waiting)
5. After you will see setup wizard appear.
6. If got some error message pop up just hit "wait"
For more details follow this XDA developer forum post.