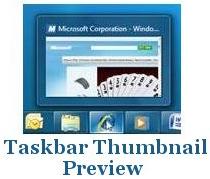 Windows 7 Taskbar is completely different from Windows Vista and XP. Windows 7 taskbar also know as super bar has bigger icons, no more title text of windows, thumbnail preview, jump list, pinning option etc. Some of these features are fascinating but some do annoys users like Thumbnail Previews which displays small thumbnail preview of opened window.
Since most of the windows 7 users are not comfortable with taskbar thumbnail previews feature why not disable taskbar thumbnail preview. Here is small guide on how to enable and disable taskbar thumbnail preview.

Taskbar with Thumbnail Preview
How to Enable or Disable Taskbar Thumbnail Preview in Windows 7
1. Click on start and type on search bar gpedit.msc and press enter
2. Now navigate to User Configuration, Administrative Templates, and Start Menu and Taskbar in left pan of Group Policy Editor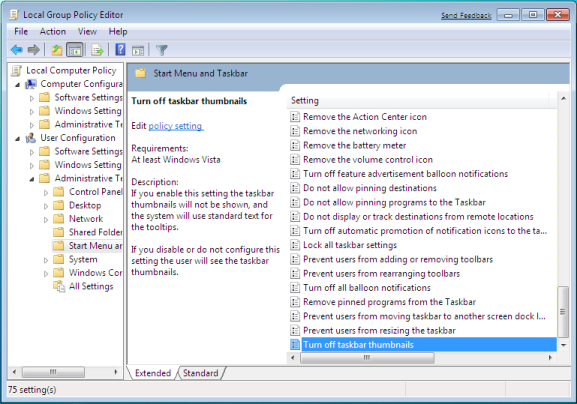 3. Locate "Turn off Taskbar Thumbnails" in right pan of Group policy editor and double click on it.
4. Select Disable click apply and Press ok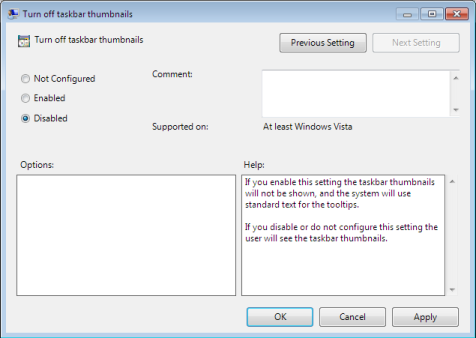 5. Now check your Taskbar, it shouldn't show Thumbnails Preview .
Please Note: Taskbar Thumbnail Preview only works when you have Enabled Aero in Windwos 7.