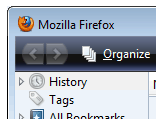 Firefox History can be very helpful when you have forgotten the website address but most of the users tend to delete history to speedup Firefox startup and once you have deleted Firefox history then there is no way to recover it.
The need of recovering deleted history may not be frequent but if you really need to recover deleted history then Firefox 3 History Recovery (ff3hr) come handy in such cases. Firefox 3 History Recover is forensic tool to recover deleted history records from Firefox 3.
Firefox browser uses various SQLite databases to store the history, and this tool can search and recover records from four different tables in whole disk image and ff3hr uses firefox sqlite database to recover deleted history.
Screenshot of Firefox 3 History Recover