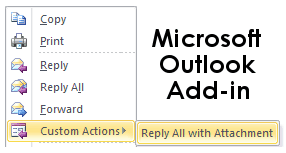 Often we feel the need of replying back to sender/senders with attachment in Microsoft outlook 2007 however by default Outlook reply to all option doesn't take attachments into consideration also forward mail option doesn't add all recipients added as CC & BCC by sender of email.
Here is wonderful Add-in "Reply all with Attachments" for Microsoft Outlook 2010 & 2007 to help us in above scenarios. In order to install Reply all Attachments Add-in you must have .Net Framework 3.0 and Visual Studio Tools for Office system 4.0 Beta 1.
Once you install this add-in a new option "Reply all with Attachment" gets added under Custom Actions.
Screenshot of Reply All Attachments in Action
On Microsoft Outlook 2010
On Microsoft Outlook 2007
Download Reply All Attachment Add-on for Outlook 2010 & 2007