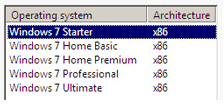 Finally after long wait of more than a year (first Windows 7 milestone leak) Windows 7 has reached to RTM milestone & untouched ISO of Windows 7 Build 7600.16385 was leaked few days back on torrent websites. Windows 7 RTM Build will be available for download to Technet and MSDN subscribers on August 6th. Whereas normal users need to wait till October 22nd.
If you have downloaded untouched Windows 7 RTM leaked ISO and attempting to install Home basic or Professional SKU/Windows 7 version then you will be surprised to see you won't have Windows 7 Edition selection screen on Windows 7 Setup.
On Windows Vista and XP it was based on License key which you need to enter on the start of OS setup but in Windows 7 installation process is little bit different and you don't have choice to select Windows 7 edition as well you need to enter Product key at the end of completion of Windows 7 installation.
However it should be noted that any Windows 7 DVD is capable of installing Ultimate, Professional, Home Basic, Home Premium & Starter edition and this information is stored within ei.cfg file, inside the "sources" folder of Windows 7 Setup DVD. Here is small hack to enable Windows 7 Edition Selection Screen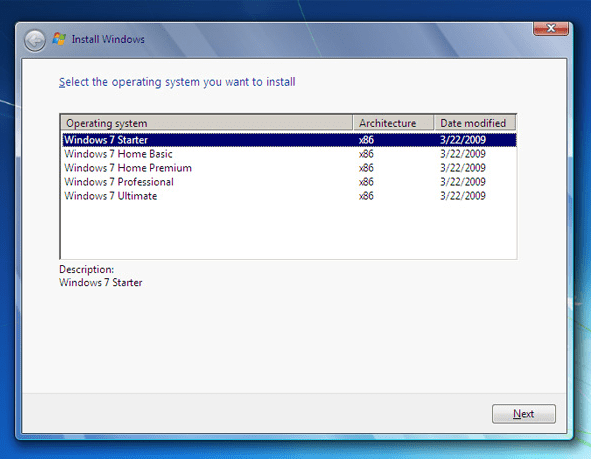 How to Enable Windows 7 SKU/Edition Selection Screen
1. Download MagicISO or PowerISO to rip Physical Windows 7 DVD as ISO image or to Open & Mount Windows 7 ISO if you have downloaded Windows 7 ISO DVD
2. Open virtual drive where you have mounted Windows 7 ISO
3. go to Source folder and locate ei.dfg
4. Either Delete ei.cfg to Enable Windows 7 Edition Selection Screen or modify ei.cfg to install Windows 7 Edition/SKU of your choice