Windows 7 Start Menu is almost similar to Windows Vista however Windows 7 Taskbar aka superbar is way different from Vista & XP Taskbar. In Windows 7 Taskbar you have access to jump list and recently opened document list of Office word and for Windows Media Player you will get frequently played video list.
Same list of frequently played videos is also available in Windows 7 Start Menu if you have pinned Windows Media Player 12 (WMP 12) to start menu. Many users do not want others to see what videos they were playing. Here is guide on how to clear and stop displaying WMP 12 Recent/Frequent List for those who don't know how to clear frequently player video list of Windows Media Player.
Follow below steps to clear and disable Windows Media Player Frequent/Recent list from Start Menu and Taskbar Jump list of Windows 7.
How to Clear & Stop Displaying Windows Media Player 12 Frequent List in Windows 7
1. Open Windows Media Player 12 (wmp 12) from start Menu
2. Now click on Organize and go to Options
3. Under Options, Select Privacy tab
4. Now under Privacy tab look at History Section
Click on "Clear History" to clear Frequent/Recent List of Windows Media Player 12
Uncheck Music, Pictures, Videos & Playlist to stop displaying Windows Media Player 12 Frequent/Recent List.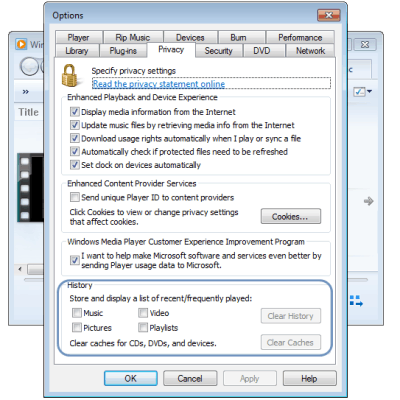 That's it.