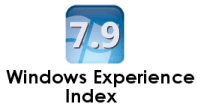 From Windows Vista Microsoft has added method to evaluate hardware and based on that rating is provide called as Windows Experience Index (WEI) to enable Aero glass effect. Similar way of evaluating hardware is still present in Windows 7. There is no way to bypass windows experience index enable Aero glass effect in windows 7.
However if you wish to change Windows 7 WEI without changing actual hardware then this guide is for you but keep in mind that by modifying Windows Experience index with following guide you can't Enable windows 7 Aero effect, it's only good for showoff purpose.
How to Change Windows Experience Index (WEI) On Windows 7
1. Open up Windows Explorer & Browse to C:\Windows\Performance\WinSAT\DataStore.
2.Click on the most recently created XML file there (its something like this….2009-07-05 01.12.28.985 Formal.Assessment (Recent).WinSAT) & take ownership of the file
3. Open above file fine in notepad or wordpad and make changes to following selected part shown in below image.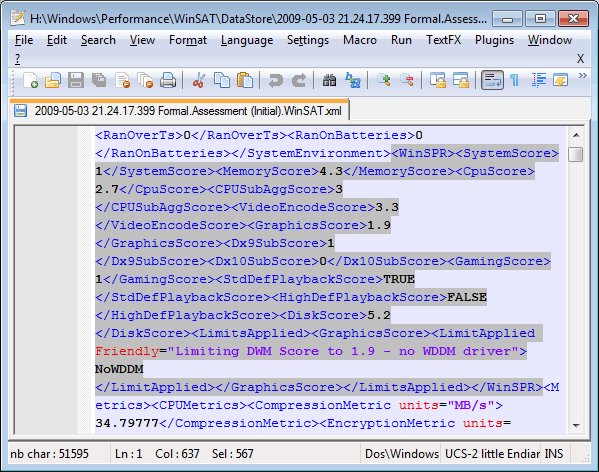 For e.g
<WinSPR>
<SystemScore>7.9</SystemScore>
<MemoryScore>7.9</MemoryScore>
<CpuScore>7.9</CpuScore>
<CPUSubAggScore>7.9</CPUSubAggScore>
<VideoEncodeScore>7.9</VideoEncodeScore>
<GraphicScore>7.9</GraphicScore>
<GamingScore>7.9</GamingScore>
<DiskScore>7.9</DiskScore>
</WinSPR>
4. Save the file & Restart the performance information & tools in the control panel.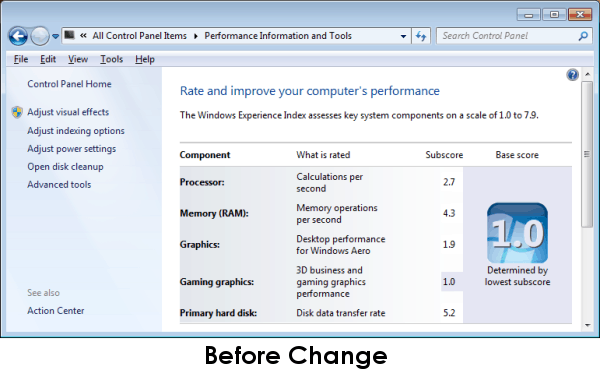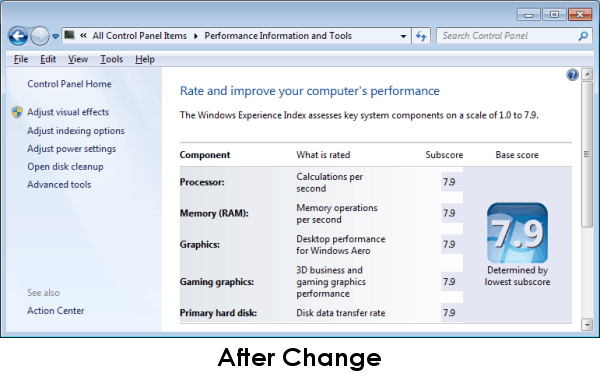 Check out: How to Fix Low Hard Drive Windows Experience Index on Windows 7
Source: Windows7center forums