Microsoft Windows Mobile is second most popular operating system for mobile devices like smart phones, portable media centers, and Pocket PCs. Windows Mobile is based on actual win32 API. Unlike Microsoft operating system windows mobile is also enhanced and upgraded from version to version.
Latest Windows Mobile version available with supported mobile devices is 6.1. Their was news that Microsoft will be soon releasing windows mobile 6.5 which is minor upgrade but has significant improvement and lot many new features are added. Well to surprise before Microsoft can release, it has been leaked on internet as reported neowin.
The first Windows Mobile 6.5 ROM has leaked and is available for HTC Blue Angel (O2 XDA IIs, Qtek 9090, T-Mobile MDA III) devices. The Rom is leaked at popular XDA-developed forum.
Features of Windows Mobile 6.5 ROM
1. MSTOUCH(UPDATE)
2. TouchRecognizer
3. Touch LockScreen
4. IE6[IE Mobile8.12Pro]2009 Only for 6.5
5. CMHome For WM6.5PRO
5. Live For WM6.5
Screenshot of Windows Mobile 6.5 ROM in Action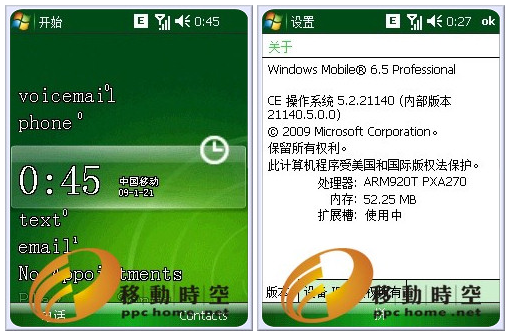 Watch Video of Windows Mobile 6.5