So you just noticed that your Windows drive is getting full and reaching its full capacity. The first thing you would be doing is wondering why is the drive getting full even though you are not installing new software or tools or downloading any stuff to that drive. The main reason for Windows drive eating up space over the time is Windows Updates and Patches.
In order for Windows to update or patch the vulnerability, it has to download and store the files somewhere and for this purpose, a hidden directory called C:\Windows\installer is used to store the installation and patch files. Even after Windows has finished updating and patching, these installations files aren't deleted or removed from the installer directory, causing it to grow in size over the time, wasting gigabytes of harddisk space.
The question does come, it is safe to delete Windows\Installer files? If yes, then how can we delete them? Here is your answer, Yes, you can virtually delete Installer files directly, but for that, you need to the know orphaned or obsolete files which are no longer required, unfortunately, its nearly impossible for non-tech savvy users to know those files which are safe to delete.
P.S. You can access your Windows \ Installer dirctory by entering following command at the run – %windir%\Installer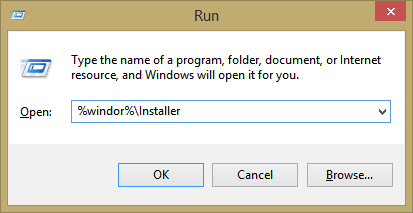 PatchCleaner – Cleanup Windows Installer Files
Here is the solution for those users, PatchCleaner. A tool specifically designed to help you with Windows/Installer directory files. PatchCleaner identifies the .msi/.msp (installer) files and allows to either delete or move to another location (safe option).
The PatchCleaner utilises the Windows Management Instrumentation (WMI) to compare the list of known msi/msp files against the files found in Windows\Installer directory, anything that's inside the folder but not in the list will be marked as orphaned.


As you can see from above screenshot, we managed to recover about 1.93Gb of space by removing orphaned files.
You can also setup exclusion filter to remove the certain files types from the scan list so as to prevent the accidental deletion or setup the move location instead deleting files, you can move them to your desired location.
The PatchCleaner is compatible with Windows 10, 8 and 7, Windows XP is no longer supported. You can also use PatchCleaner on Windows Server 2008 and 2012 R2 64.