I am always on the lookout for tools that speed up my internet browsing experience. Recently, while searching for such a tool, I stumbled upon an excellent browser extension called FastestFox.
FastestFox is a free to use browser tool that comes as an extension for the Google Chrome web browser. The extension enhances and speeds up the overall Chrome experience in various tiny yet significant ways. The following are 5 of these ways that I am positive will convince all Chrome users into using FastestFox:
1. Automatically Look Up the Meanings of Words
Internet users, particularly ones whose first language is not English, often come across new words online. There are various things that can be done to look up the meaning of any new word we come across. Online dictionaries and desktop dictionary application are both great solutions. But FastestFox makes the process even faster by revealing the meaning of a word when you highlight it.
This simple action works excellently for English words. But I was surprised to see that the process worked for some non-English words as well. For example, the app was able to accurately fetch the information on my first name even though I spell it slightly differently that the usual spellings.
Therefore through FastestFox, you will be saving a lot of your time that would otherwise be spent on being redirected from the currently open webpage and then lookup the meaning of a new word or term.
2. Searching for the Highlighted Text on Numerous Search Engines
As you can see from the screenshot above, there are a small box that opens up along with the word meaning popup that appears. This small box includes icons for various search engines. Clicking on an icon will search for the highlighted text on the respective search engine.
By default, the search engine icons that appear include Google, Wikipedia, Bing, and DuckDuckGo. This list can be easily expanded by heading over to the extension's preferences and enabling / disabling any search engine that you want.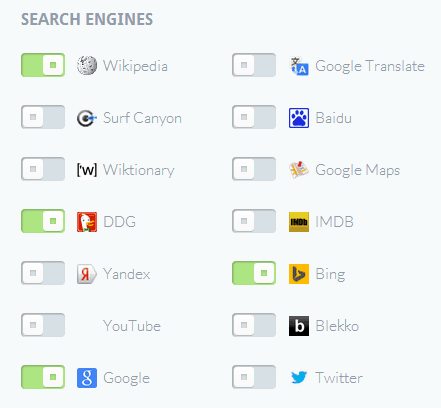 Currently, the search engines that are supported include Wikipedia, Google Translate, Surf Canyon, Baidu, Wikitionary, Google Maps, DuckDuckGo, IMDb, Yandex, Bing, YouTube, Blekko, Google, and Twitter. As you can see, you can enable all sorts of search engines and use the options that appear over the highlighted text to look for directions, check out the cast of a movie, look for relevant videos, and more.
3. Attaching Relevant Meanings on Top of Web Search Results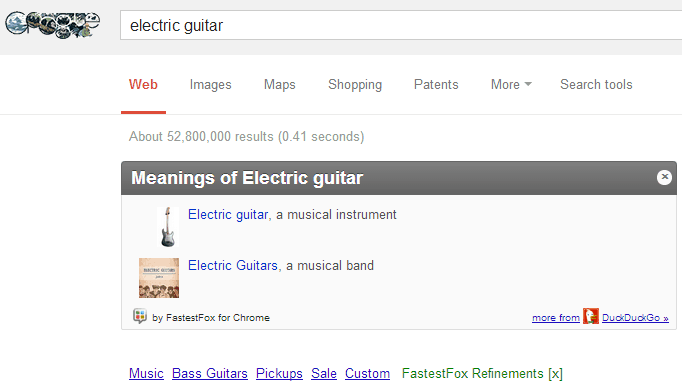 After the extension has been installed, your Google Search results will have an additional box on top. This box will include the various meanings of the word or phrase that you have searched for. From word meanings to band names, this box will include all corresponding search query meanings.
4. Online Shopping Enhancements
Online shoppers spend a great deal of time jumping from one webpage to another, trying to find a better deal for the product that they want to buy. FastestFox saves your time in this area by fetching prices of similar products. Similar product images are fetched via Superfish and their prices are fetched from various online retailers.
Needless to say, this feature saves a ton of time while looking for better online shopping deals.
5. Endless Scrolling
Numerous webpages, particular web search results, are shown over the span of numerous pages. The time taken to click the "Next" link at the end of every page can really break the reading rhythm of a user. FastestFox automatically loads up the next page and saves you that extra mouse click. Such Endless Scrolling really facilitates online article reading that spans multiple webpages.
If you feel that the above enhancements suit your needs and will speed up your Chrome experience, you should definitely give FastestFox a try.
You can get the FastestFox browser extension for Google Chrome from over here.