YouTube is the first web app to introduce the concept of video sharing in a separate website. It was acquired by Google from its developers and it is now one of the biggest video sharing sites on the Internet. Even though YouTube is the most used website, still we have many useful and entertaining video sharing sites available on the web. Accessing the videos in offline is not possible in any video sharing sites, so the only option is, you have to download the video to your PC or mobile devices.
There are plenty of web apps available to download videos from separate video sharing services. In spite of using different web services, you can use "SaveDeo" to download videos from different video sharing services. It supports all the popular video sharing services and lets have a look at the features and functions of the app below.

To start with SaveDeo, you don't need to register or sign up with your social accounts. Go to SaveDeo's website, there you can see a text box with download button and the list of supported video sharing services. You can download videos from YouTube, Vimeo, Instagram, Flickr, etc. Services like Vimeo offers full HD videos and Instagram has many cool fifteen second videos to watch. SaveDeo lets you download videos from all these web services in a single place.

Once you copy and paste the link over there you will be redirected to another window, where you can see the video's screenshot on the back of the window and different formats and quality to download the video. You will get video formats like MP4, FLV, 3GP, etc., and audio formats will be in M4A. More than 15 popular video sharing sites are supported by SaveDeo. To see all the supported web services, click the "Supported Sites" option in the top menu bar. Choose any one of the web services over there to see the instructions to download videos from that site.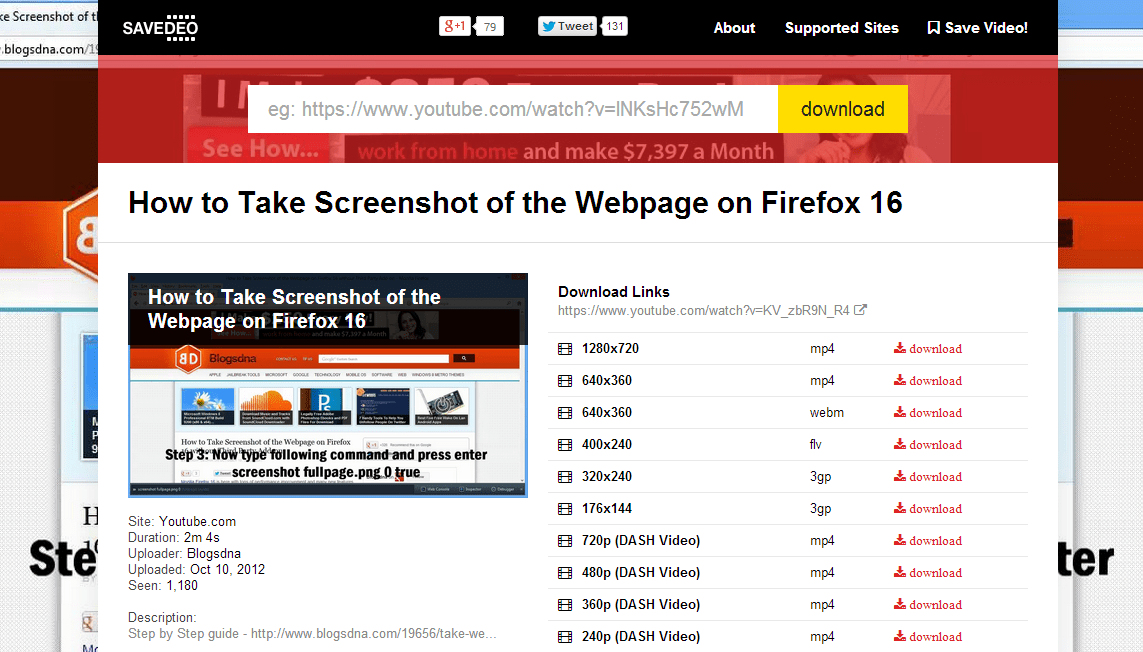 Also, there is a "Save Video" button in the menu bar, you can drag that to your browser bookmarks bar for saving the video instantly as you browse. It is a one stop web service to download all your favorite videos. Download videos from SaveDeo and share your experience with us in the comments. Thanks for reading, do share this post with your friends.