I have pointed out in my earlier posts that, at least for the time being, YouTube is blocked in Pakistan – the country where I am situated. So whenever I need to open up a YouTube link, I have to do it via a proxy server, a VPN server, or another one of the many circumventing techniques.
If you find yourself in a similar situation, looking for a good way to check out YouTube videos, then I highly recommend a website called detURL – not only does it provide link to unblocking YouTube video, but it also helps you download the video, extract its audio, and do a bunch of other cool stuff to it.
In order to begin, you need only visit the homepage of detURL. After that you must enter the URL of the YouTube video page which you are trying to visit. Remember that the URL you enter must include the 'http' part otherwise detURL will be unable to process it. Alternatively, you can visit the URL in your web browser by replacing the 'https' with 'http' and the 'youtube' with 'pwnyoutube'.

The website will then open up a page with links to all kinds of fun stuff!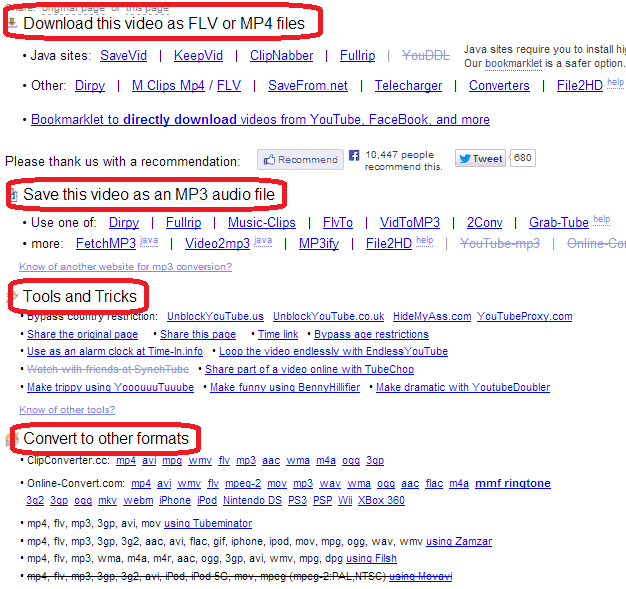 Starting from the top of the page, you will be able to download the YouTube videos in FLV and MP4 file formats. detURL simply links you to the web services which provide this video downloading functionality. Clicking on a URL takes you directly to your particular video's download page on the particular web service.
Secondly, links are provided to the user to convert the video directly into an MP3 audio file. Depending on the web service you choose, you can select your output audio format and select the portions of the video of which the audio you want extracted.
The third section of links lets you unblock YouTube video through various web services such as UnblockYouTube.us. Links are also provided for fun YouTube-video sites such as BennyHillifier.
If you want, you can use one of the last set of links to convert the YouTube video into another bunch of useful file formats. For example, you can have the video converted to a 3GP format for it to be playable on one of your older phones.
You will also find on the site, a shortened link for the video – this makes it easier to share it in a social networking status that has a character limit e.g. Twitter. A link to a 'clean YouTube view' is also provided; this opens up the video in a distraction free interface.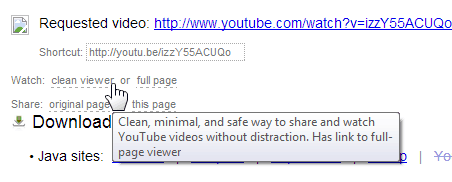 If you can already visit YouTube videos and would like the other features, such as downloading, to be accessible from the YouTube page, then you should use detURL's bookmarklet. Drag this to your bookmarks toolbar and click it anytime you want to download a video – remember to be on the YouTube video's page before you click on the bookmarklet.

As you can see, detURL offers a plethora of options when it comes to YouTube videos. From downloading videos to viewing them in a cleaner view, from extracting their audio to unblocking them, you will find everything on detURL.
Check out the website by clicking here.