The importance of Windows System Restore point can only be realized if you ever end up with crashed system, which is failing to boot. Though System Restore feature is here since Windows XP days, but over the years it has been improved and also includes ability restore one single file than the entire system. We had covered Windows 7 System Restore in great detail and Windows 8 System Restore no different from Windows 7.
However, one issue with Windows 8, 7 system restore is, in order to create restore point you need go all around different Windows settings to just create system restore point. Also, there is no way you can find how many restore points are created and instantly delete older restore points which are no longer valid now.
To overcome all these issues here is extremely useful utility, Restore Point Creator. This is a lightweight and easy to use utility to create and manage System Restore Points quickly and easily. The interface of Restore Point Creator offers you to create, delete, refresh and restore to selected restore point.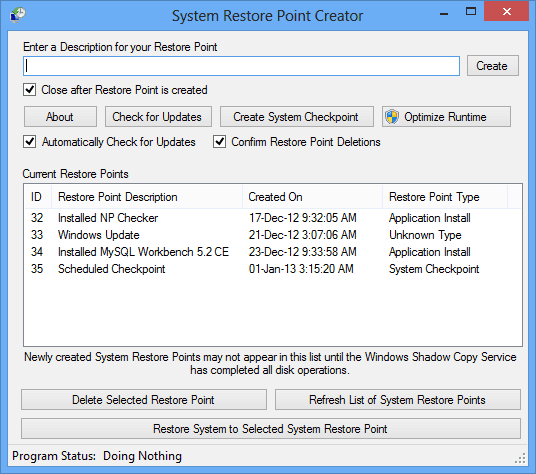 Restore Point Creator doesn't require any installation, however, in order to run you must have .net framework installed. To create new restore point simply enter the name or description of restore point and click on Create button.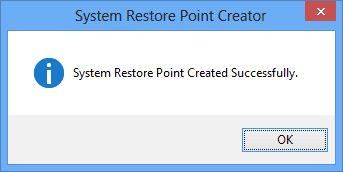 In order to delete restore point, select the restore point from current restore point list and press Delete Selected Restore Point button. To protect users Restore Point Creator will not allow you to delete most recent restore point.

The last but not least feature of Restore Point Creator, select existing restore point from the list and click on Restore System to Selected Restore Point option. That's it. Your system may reboot several time once you initial the system restore.
The one good thing about this utility is that you do not require to access any system settings. All the system restore related options are available right in Restore point Creator.