CAPTCHA codes definitely have their use in differentiating computer spamming bots and humans. But the truth of the matter is that those codes are highly inconvenient for users. Not only do you have to squint your eyes and read the gibberish on those codes, but you have to do accurately – a process that you do not get right the first time. Then you have to wait for another CAPTCHA to load up which takes up even more time. Take this code, for instance; is the last letter an upper case O, a D, or a 0?
If only there was a tool that would automatically fill up your CAPTCHA codes for you…
Well, for Firefox users, there definitely is! And it is called CAPTCHA Monster.

CAPTCHA Monster is a browser tool that uses its intelligent algorithm to automatically detect the characters in CAPTCHA codes; the tool then fills out the CAPTCHA code for you and helps rid you of the CAPTCHA menace.
The tool comes as a browser add-on for Mozilla Firefox users. After you install the add-on, you will need to restart your Firefox browser. You will then find a new section added to browser's toolbar.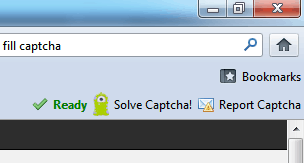 When you are on a webpage that asks you to solve the CAPTCHA code, simply click on the "Solve Captcha!" button. The "Ready" button will transform and show that the code is being solved.
The code will then be detected and filled out on the form. Since this is an entirely automatic process, result are sometimes not accurate. To be exact, the add-on takes up an 8.5 second average solving time and is successful 98.94% of the time.
You can get the free version of the add-on that lasts for about 30 days. After that you can opt for one of the premium versions that offer different prices and different number of solved CAPTCHAs per month.