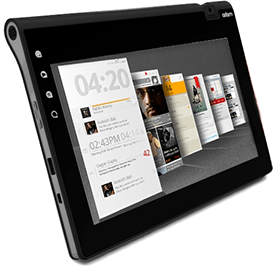 Notion Ink Adam launched about a year back, was the first android tablet with Nvidia Tegra 250 processor with 1 GHz dual core cortex A9. The Adam was launched with Froyo 2.2 with customized Adam UI to suite 10.1 inch screen, despite Adam being product from new startup company, a regular updates has been promised and provided to the Adam users. Now here is the latest jewel to Adam's crown, the first Android 4.0.3 Ice Cream Sandwich Alpha ROM is up and available for download.
In the latest blog post by Notion Ink CEO, Rohan Shravan, has announced the available for Android 4.0.3 ICS Rom for Adam Tablet along with list of major fixes included with this ROM. Here is the list of fixes,
Audio, Sensors (including Compass), Bluetooth, Sleep bug partially fixed (you need to change the wi-fi policy for this), Hardware Acceleration, Accelerated Video, Wi-Fi, HDMI Video (no sound), Capacitive Buttons, Back Buttons, SD Card Mount, GPS, 120dpi launcher fix, 0.39 Kernel.
Since the ROM is still Alpha, there are number things yet to be fixed like 3G, HDMI sound and Camera issues. If you are proud owner of Adam tablet and eager to try Android 4.0.3 ROM (at your own risk) then follow below steps to Install Android 4.0.3 ICS. Before proceeding make sure your Adam is 50% or charged more.
How to Install Android 4.0.3 ICS on Notion Ink Adam
1. Download Android 4.0.3 ROM From here
2. Download Update.zip for ICS ROM from here
3. Now copy and save update.zip and adam_AlphaICS.zip to the external sdcard.
4. Start Adam in Recovery mode by pressing and holding both the Volume (+) and Power buttons for two seconds and wait for Adam to power on.
5. Once Adam is in recovery mode use volume rocker button to navigate and select Install Update.zip from external SD Card.
6. Follow on screen instructions and complete the update process and reboot to recovery mode again as described in step 4.
7. Wipe the data and select the option – install zip from SD card
8. Now Select choose zip from SD Card and select adam_AlphaICS.zip and Wipe the data and cache
9. Now wait for your device to complete the process and reboot the devices.
That's it, Enjoy Notion Ink Adam with Android 4.0.3 Ice Cream Sandwich. Please keep in mind that this is Alpha rom and may or may not work properly. Also don't forget to make backup of your data before installing Android 4.0.3.
Here is demo video of Notion Ink Adam running Android 4.0.3 ICS Alpha ROM.