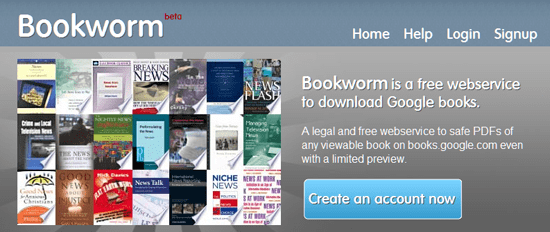 About three years back we had covered an article on how to download Google Books and even till today that article is popular among readers, though the tool we which had mentioned in that article no longer works and many users have reported that their IP is banned on books.google.com. We understand that Google wants to protect the work of writers by preventing users from downloading and distributing Books available at Google Books, but not all users who want to download Google Books have intention of selling and making money or distributing copyrighted work.
There could be genuine reason where you want to download Google books for e.g for the offline access or to read on your mobile phones. For those users here is awesome webservices, Bookworm, a free webservice to legally download Google books as PDF file for free. Bookworm is completely automated webservice, just add Google Book URL and wait for Bookworm to download it for you.
Though the download is not instant (and it cannot be made instant) and takes about 30 minutes or more to complete one book download depending on size of the book you are downloading, also not every book is fully downloadable via this service.
Bookworm.evil.so is still in beta mode and requires invitation code to create an account but most important part is, this service is free of charge !!!
Here is walk-through of how to download Google Books using Bookworm,
The Bookworm website has easy to use interface and clean look. At the top you can access the login and sing-up screen (Singup is closed at the moment, need invitation code to create account). Once you login, click on Book link at the top and you will be presented with screen similar to below screenshot,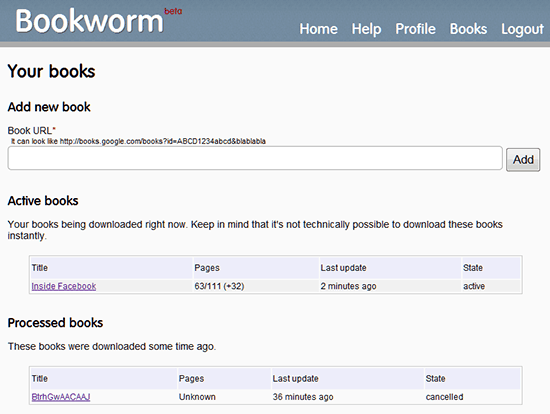 Above page lets you to add new Google Book for download and view all the active downloads being processed. You can also view your processed books downloaded some time ago including failed and cancelled downloads.
In order to download any Google Book, you must copy the proper Google Book URL and add it to Bookworm. Google Book URL can be obtained from your browser address bar by visiting that Google Book page, as highlighted in below screenshot.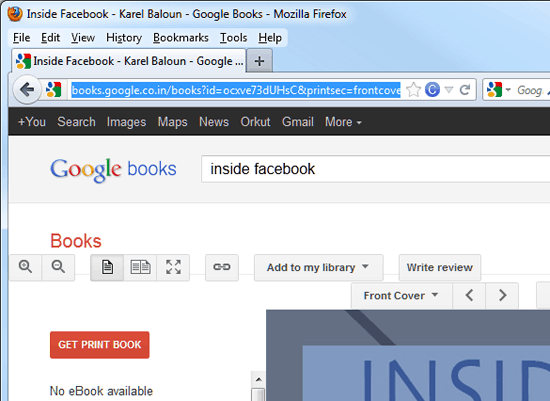 One you add your Google Book URL for download, Bookworm will add it in queue and attempt to download all the pages and as soon as it completes the download you will receive an email. You can also cancel your Google Book download request by accessing the associated link in Active download section, where you can also view all the activity and current status of your book download.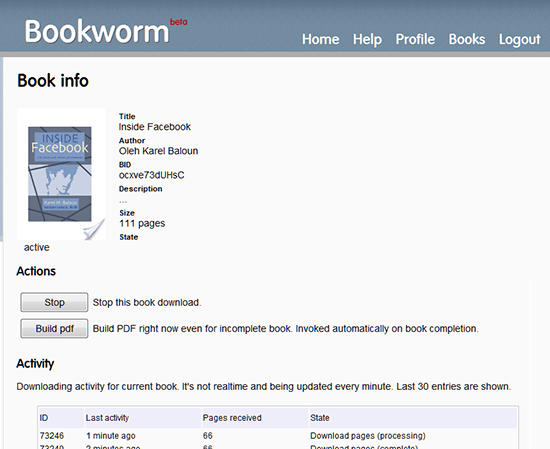 One more cool feature of Bookworm is ability to build PDF of incomplete book, meaning you can create PDF of Google Books of downloaded pages without cancelling or waiting for entire book download to complete.
We are sure Bookworm will become popular online service for downloading Google Books online. Below is invitation code which you can use to create account and test Bookworm, we are not sure for how long this invitation code will work and it is first come first serve basis.
Invitation Code : 42ffda812a05b4ea7c22