In past we have covered number of tools and utilities for converting CD/DVD image file formats to popular ISO format. There are number CD/DVD burning tools, paid as well as free available on internet & most of them have their own propriety file format to create CD/DVD image files which you can later use to create copy of disc and you are bound to come across images files of different format.
One such format is MDF (Mirror Disc File) is disk/DVD/CD image format produced one of popular CD/DVD burnings and backup tool, Alcohol 120%. For sure if you have .MDF file you need to have Alcohol 120% if you want to burn on CD/DVD & unfortunately Alcohol 120% is not freeware program, you need to spend 39€ or about  $61 USD.
On other hand it's easier to burn ISO images as there are many freeware tools as well as built in support to burn ISO on disc in Windows 7. If have come across MDF file and looking for simple solution to burn on disc without using Alcohol 120% then here is MDF to ISO, small utility to instantly convert MDF image files to ISO.
After you install and run MDF to ISO, you can see a very simple converter, first you need to select MDF file which you want to convert using select option to browse & select file then enter the desired name of the output ISO file, then you can click the "Convert" button to start conversion.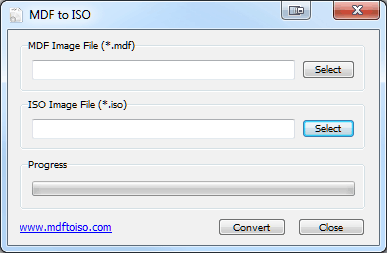 The conversion time is based on the original file size and the capacity of your computer CPU, program will show a real-time progress bar to display the specific conversion progress.
MDF to ISO installer is less than 500 Kb in size. This is a completely freeware, without any limits or adwares. This program has been tested on the Windows 7 platform.