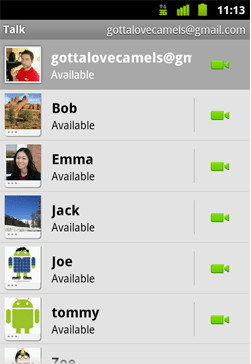 Few days back Google announced about Android 2.3.4 update for Google Nexus S which comes with highly demanded video & voice chat feature to compete with facetime of iPhone App. The video/voice chat feature is made available via Google Talk Android app. Unfortunately other android smart phone owners have to wait until phone manufactures like HTC, Motorola & Samsung etc pushes android 2.3.4 update to their phones.
Well if can't wait till that time then here is way to get voice & video chat on your android phone, thanks to XDA-forum dev britso. He has managed to extract Google Talk 1.3 app which supports video/voice chat from Android 2.3.4 Google Nexus S Update.  Google Talk 1.3 apk is also made available for rest of the android phones.
If you have Android 2.3 & above running and rooted phone then follow below steps to install Google Talk 1.3 apk with Voice & Video chat feature.
Connect phone to PC and run following commands on adb console.
adb remount

adb shell mv /system/app/Talk.apk /system/app/Talk.apk1

adb uninstall com.google.android.talk

adb push libtalk_jni.so /system/lib/

adb push Talk2.apk /system/app
That's it now enjoy voice & video chat on your android phone.
Via – XDA-developer