How many times you have wished for auto answer feature in iPhone to get away with unwanted calls or to let others know that you can't pick up their call at the moment. Well here is Cydia app, AutoAnswer which will do the job of auto answering phone & faceTime calls on your iPhone 4, 3GS, 3G.
With AutoAnswer you can set your phone to automatically answer to specific numbers and FaceTime calls. You can also use it for Unattended Videoconference and Remote Area audio/video surveillance too. AutoAnswer lets you choose numbers that you wish to auto-pickup and your phone will automatically answer the incoming call from those numbers, either instantly or after the amount of seconds you specify.
AutoAnswer has several uses like:
1. Baby-watching over FaceTime,
2. Auto-answering specific numbers while driving, while using your phone with a bluetooth headset,
3. Instant response to specific calls, unattended video conference (leave an iPhone in some place and call it via FaceTime, keep a constant connection etc) and the stealth mode which is an option that you can turn on/off.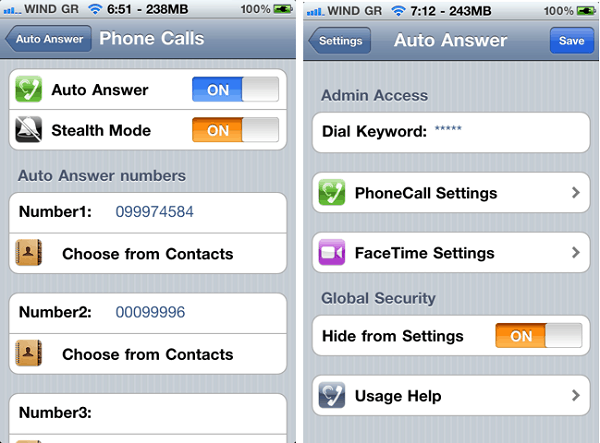 You can get AutoAnswer cydia App for $4.99 from bigboss repo.