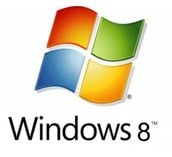 Not even a week to Windows 8 initial milestone build leak and windows enthusiasts have started digging into Windows 8 builds. Though Windows 8 Build 7850 enterprise edition is no big different than Windows 7 but newer code in leaked build does reveals a lot Windows 8. For example Windows 8 portable workspace & push notifications are the new features of Windows 8 which unofficially got unveiled thanks to leaked Windows 8 build.
If you are planning to dig into Windows 8 you might want to know that leaked Windows 8 Build 7850 is expired build. For your information all initial builds of Windows 8 are trial versions comes with time bomb (will expire after 30 days).
Well do not worry you can still run Windows 8 Build 7850 milestone edition thanks to illegal activation methods largely floating on internet. We came across two different methods of Windows 8 activations of which one is manual method & asks for huge patience and second one is pre-build Windows 8 Activator with timebomb remover.
Windows 8 Activator & TimeBomb Remover
WARNING: We strongly oppose & do not recommend downloading any leaked Windows 8 builds or try to bypass activation. It is not only illegal but you may end up downloading virus/trojan infected builds.
Thanks to Binoy of Compixels for the Tip.