If you have Computer or laptop/netbooks without DVD/CD drive then it's obvious that you will need USB based rescue drive instead CD or DVD when your computer or laptop is infected with virus and doesn't boot up at all. If you are looking for how to create bootable rescue USB drive then here is small guide to create bootable Bitdefender USB rescue drive.
By creating Bitdefender Rescue USB drive you can boot your pc from USB & scan  your computer with Bitdefender antivirus scanner to remove or quarantine viruses. It also has an option of file recovery & updating Bitdefender antivirus.
Stuff needed
2. UNetbootin to create bootable live usb drives
2. USB drive of size 1 GB or above
3. Laptop/Netbook/Computer with USB boot option (Here is the way to add USB boot Option support if the USB boot option is not available on your PC)
How to Create Bitdefender Rescue USB drive
1. Download Bitdefender Rescue ISO and keep it on desktop
2. Download UNetbootin and save it on desktop
3. Start UNetbootin and select Diskimage option and browse and locate Bitdefender rescue iso file downloaded in step 1.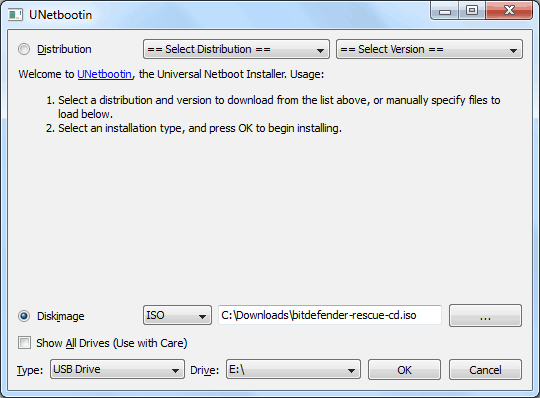 4. UNetbootin will automatically detect connected USB drive, if you wish to install Bitdefender on another removable drive then use drive drop down menu to select appropriate USB drive.
5. Now click OK button to initiate Live USB creation process. Once UNetbootin completes process and displays message "Installation Complete, Reboot", your Bitdefender Rescue USB is ready.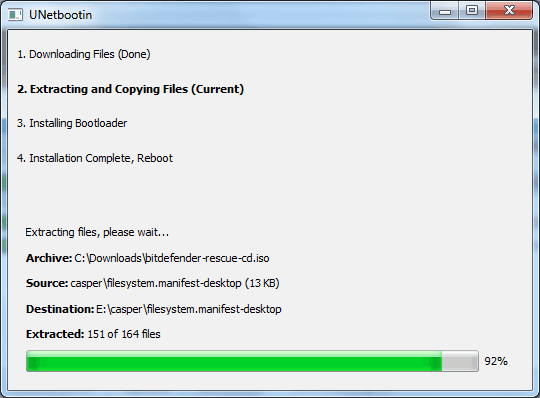 BitDefender Rescue USB in Action