Scrolling through long Microsoft Word document may not be convenient when you want to review it. Often we don't want to scroll down through paragraphs or the sections of the document every time which are already reviewed, wouldn't be convenient if you can hide those sections or paragraphs of Office Word documents ? if your answer is yes then here is very useful Microsoft Office add-in, More Add-in.
The More Add-in package will help you hide and show stuff in Microsoft Word documents. With More Addin you can make collapsible with ease, resulting in:- Better-looking documents – More readable documents- More compact documents- Easier navigation through complex documents- and also helps in save on printing costs by hiding section of document you don't want to print.
Features of More Add-in
1. Ultra-simple More (collapsible) creation
2. Nested Mores
3. Heading Mores
4. List Mores
5. Pre-defined More styles
6. Create your own custom More style
7. Share your Mores easily with others
More Add-in Video Demo
Microsoft Word More Add-in in Action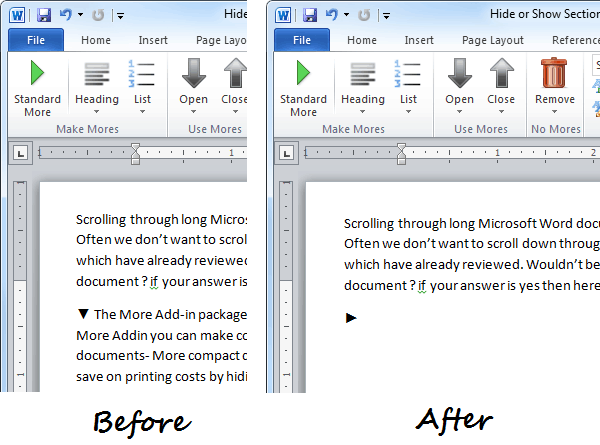 Download More Add-in for Microsoft Office 2010, 2007 & 2003.
Please Note: More Add-in is free for personal use only, for commercial use you have to purchase license.