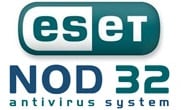 In past we have covered iAntiVirus free antivirus software for Mac OS X and recently Kaspersky had unveiled antivirus for Mac OS X.  With increase in number of Mac users, malware and virus writers have started targeting Mac computers. In an attempt to protect Mac OS X users ESET has started working on Antivirus for Mac and first beta version of NOD32 Antivirus 4 for Mac OS X is available for download.
ESET NOD32 Antivirus 4 will keep you and your network safe from emerging Mac OS X and cross-platform threats without system slowdowns.
Features of ESET NOD32 Antivirus 4
1. Advanced scanning settings (comparable ESET NOD32 Antivirus v4 for Windows)
2. Detection of threats for Mac OS X, Windows, Linux and other operating systems
3. Informative graphs, statistics and logs
4. Removable media scanning
5. Proxy support
6. Scheduler for automating scans
7. Support for both 32-bit and 64-bit Intel CPUs
8. ThreatSense.NET sample submission
This beta test version is a precursor of the final product without full functionality and documentation. It is intended for experienced Mac OS X users.