Microsoft Internet Explorer still has big share in browser market. To get strong hold in browser war Microsoft has rapidly released latest version of Internet Explorer 7 and 8 beta. Even thought IE 7 and 8 has many new features and big improvements in performance still haven't got enough attention from users.
When Firefox, Google Chrome & Opera like best browser available in market you hardly find the need of Internet Explorer but there may be some case when you will require Internet Explorer may be because of website not properly rendered in any other browser. Here is portable Internet Explorer 8 Beta (IE 8) which you can carry with your USB flash drive and start using on any computer without the need of installation.
Portable Internet Explorer 8 beta doesn't require any installation hence you can use it on any public or on your own computer without worrying about installation. You can enjoy latest Internet Explorer version keeping your existing Internet Explorer.
Screenshot of Portable Internet Explorer 8 Beta 2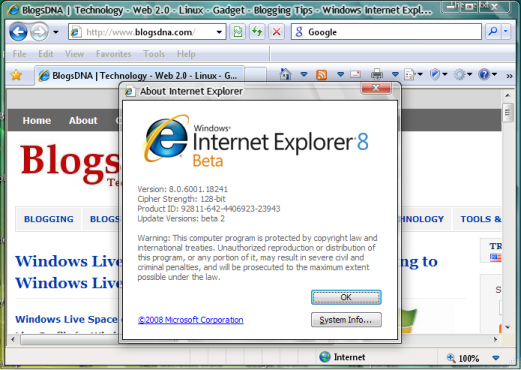 Download Portable Internet Explorer 8 Beta. (Download file size 26.3 MB)