A lot of us users, while browsing for information aren't satisfied with one or two sites. Which results in searching and checking out more and more websites. Some of them might have the information we need, but getting there is quite a hassle. What if there was a tool that would discover pages or information similar to what we're looking for, automatically? There is and it's called 'Google Similar Pages'.
Google Similar Pages is a nifty Google chrome extension that shows you similar pages with information that you're looking for in a single click. Here's an excerpt that defines how the extension works;
"When you click the Similar Pages button, your browser will send a search query to Google to see if there are any similar pages for the page you are viewing. The data related to the query will be handled as described in Google's privacy policy (http://www.google.com/privacypolicy.html)."
It's pretty simple to use. However, after installing the extension, you might have to restart your browser (I had to), so save up your links before you do so. After restarting, you'll notice 'Google Similar Pages' blue icon beside the 'Bookmark this page' icon. Let's assume you are on a shopping website (Amazon) and want to check out similar websites. All you need to do is click the recently installed 'Google Similar Pages' icon and it'll bring down a list with related websites.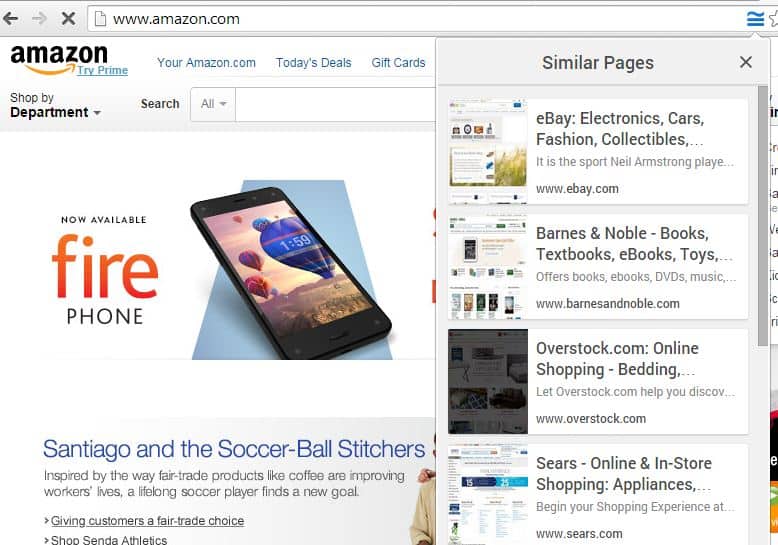 If you find something that fits your need in that list, clicking on it will open the website in a new tab. This extension is developed by Google and is still in beta so expect a few changes and added features in the future. Also, if you find any bug reports, Google wants you to report them to [email protected] (include the Chrome version number and OS you are using).
All in all, it's a great tool to have when you're looking for information and don't want to go through the hassle of checking out every page with the same title.