I love watching TV shows! recently, I came across a reality show and I couldn't find it anywhere except for Hulu. Now, unfortunately, I couldn't access it since it has country based restrictions. Fortunately, I came across a free extension that works both on Firefox and Google Chrome and has the ability to let anyone, anywhere in the world access region-block content.
Created by two guys, the extension is called 'Hola better internet' and gives you the ability to watch from websites like Hulu, Netflix, BBC iPlayer TV and more.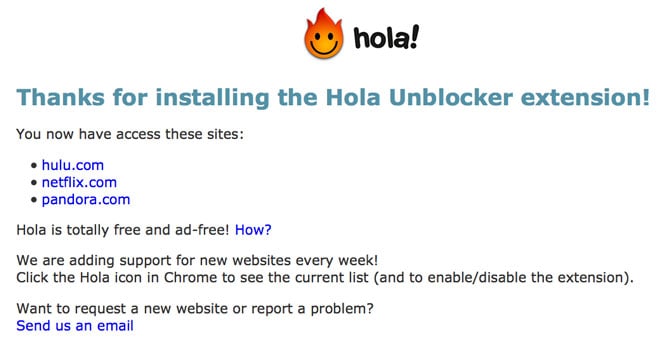 Sure, there are a lot of other VPN/proxy services that will unblock websites but what makes Hola better is that it doesn't slow down the rest of the websites down.
To use the extension
Install the extension
Go to a website that is blocked
Press the Hola extension icon (top right of browser)
Choose the country that you would like to browse from
You can download Hola on Windows and it also has an Android based app, along-with the regular Google Chrome and Firefox extension. The Android app comes with an internet accelerator that gives you faster downloads and minimizes video buffering. The Windows based app has a connection manager that helps you find and connect to WiFi networks with ease.