iOS 7 enables the users to keep the iDevices fresh and alive all the time. It provides lots of great features. Apple has recently released the stable version iOS 7.1.1 and addressed lots of bugs. The noted improvements are the stability and performance. A lot of iPhone 4 issues with iOS 7 have been addressed. Mainly, The keyboard responsiveness has been improved in this latest stable release. The Touch ID fingerprint recognition improvements have been done.
It's got even better to work with the keyboard after updating to iOS 7.1.1 version. Some users will have the need to use multiple languages while typing in iPhone. Apple gives an option to add multiple languages. The users can switch between the added languages through kept tapping on the globe icon, which is available on the keyboard layout. The users can refer this to switch between the added languages. Here is an easy way to go to the needed language or emoji without cycle through the available languages.
Step 1:
Open "Messages"
Step 2:
Tap and Hold on Globe icon.
Step 3:
The Globe icon would have been enabled, If you have added multiple languages or emoji on iPhone. A list of languages / emoji will pop up.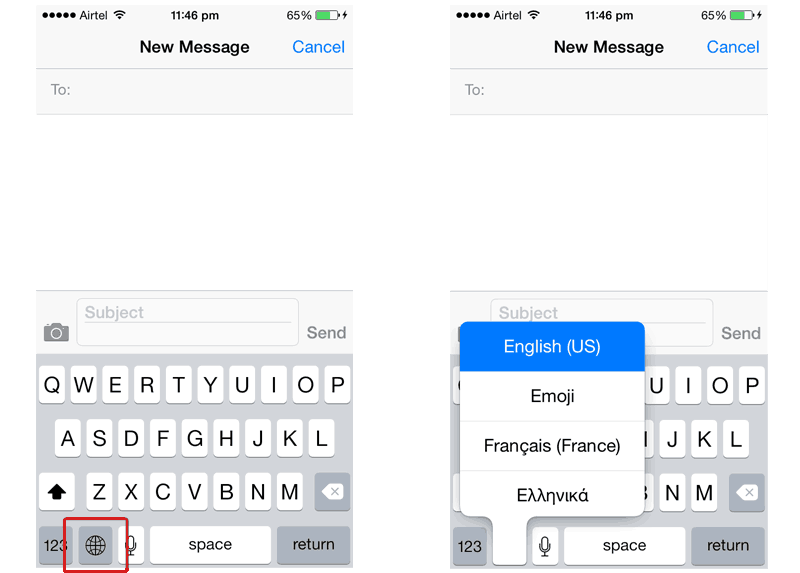 Step 4:
Choose one from the list. This will avoid going through the cycle to choose the needed language / emoji. Isn't this more easy ?