Antivirus software are ultimate savior in our struggle to keep PC safe from virus, spyware, malware & malicious programs. There are many free as well as paid antivirus are software available for windows but Norton in the one big name and preferred antivirus software.
Lately Norton Antivirus software has become big memory hog and found to be creating several issues like windows slow down, errors while installing software, internet connectivity loss etc. Even users reporting having issue while trying to uninstall or removing Norton Antivirus. We will tell how you can uninstall and completely remove Norton Antivirus Software from your computer.
Norton Removal Tool is official free Norton antivirus removal tool which can remove many Symantec product like,
· Norton AntiSpam 2004/2005
· Norton AntiVirus 2003 through 2007.2
· Ghost 2003, Ghost Version 9.0 and 10.0
· Norton GoBack 3.1 through 4.2
· Norton Internet Security 2003 through 2007.2
· Norton Password Manager
· Norton Personal Firewall 2003 through 2006
· Norton SystemWorks 2003 through 2007
· Norton Confidential Online 2007
· Norton Internet Security Add-on Pack
· Norton Save and Restore 1.0
· Norton 360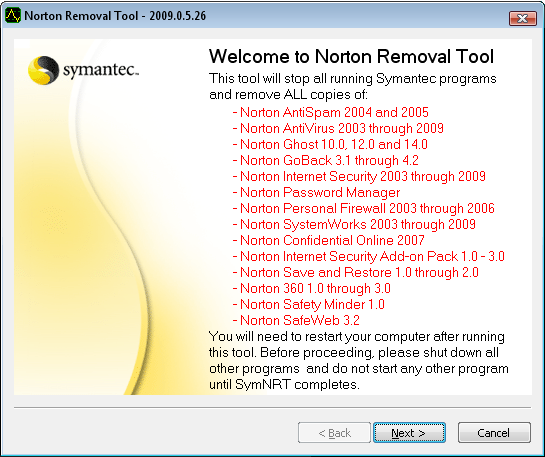 Download Norton Antivirus Removal Tool 2009 to completely remove any Norton Products.
Please note :- Once you have uninstalled Norton Antivirus or any other Norton software you will need product key to reinstall that software.