Nero is one of most popular CD/DVD burning solution for windows operating system. But the number of Linux users are not so less which can be ignored, hence Nero has developed Nero Linux 3, A Linux version of award-winning current Nero Burning ROM platform.
Nero Linux 3 latest version 3.5.2.3 is the definitive burning application for the Linux operating system. Nero Linux 3 is the only Application to offer Blu-ray Disc and HD DVD data burning support.
Features of Nero Linux 3 (v3.5.2.3)
1. Enjoy the same functionalities as in the newest version of Nero Burning ROM
2. Burn data using any optical disc format, including CD, DVD, Blu-ray Disc, and HD DVD
3. Ensure a quick and easy setup using SmartDetect automatic drive support
4. Manage your music collection with integrated audio capabilities such as high speed digital audio extraction and FreeDB, which automatically searches for disc information over the Internet.
5. Command Line
6. CD, DVD, Blu-ray, and HD DVD copy (with advanced settings)
7. CD-Text
8. CD-Extra support (with advanced settings), Bootable CD/DVD
9. Multisession CDs, DVDs, Blu-ray Discs, and HD DVDs (advanced features), Layer Jump Recording support
10. DVD-Video and miniDVD (from DVD-Video files), CD, DVD, Blu-ray, and HD DVD image recording
Screenshots of Nero Linux 3 (v3.5.2.3)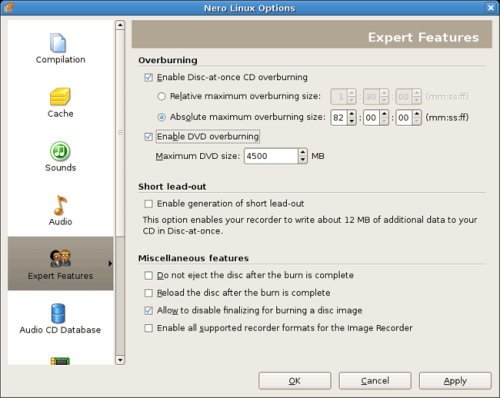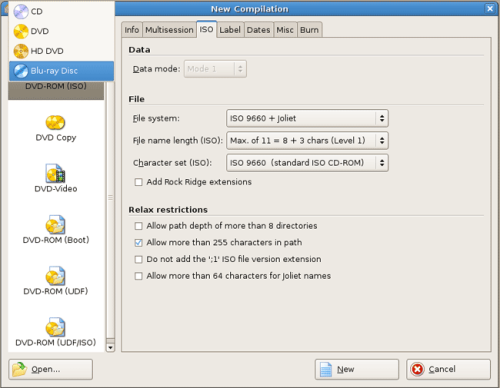 Supported Linux Flavors
1. Red Hat Enterprise Linux 4 and above
2. SuSE Linux 10.0 and above
3. Fedora 4 and above
4. Debian GNU/Linux 3.1 and above
5. Ubuntu 5.10 and above
6. Linspire 6.0.x and above
Download Nero Linux 3 Trial, most comprehensive burning application for the Linux OS