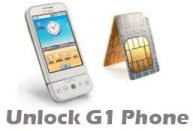 The trend of locking mobile phone to specific service provider is not new to us. The most popular apple iPod Touch and iPhone are also locked with Apple service. Similarly first Google Android G1 Phone is also locked with T-mobile. Incase of iPhone and iPod Touch we have free jailbreaking and unlocking tools but for G1 phone you have to do it manually.
One of most important part in Unlocking G1 Phone is unlock code. You can get SIM Unlock code from T-mobile, in order to request SIM Unlock Code to T-Mobile Customer Care you need have active account for 90 days. Here is guide on How Unlock and Activate your T-Mobile G1 Phone.
How to Unlock and Activate T-Mobile G1 Phone
1. You can officially obtain SIM Unlock code from T-Mobile by Requesting Here. Or you can use Third party Service Unlock-tmobileg1.com which charges $23.99 USD.
2. Insert T-Mobile SIM Card in your G1 Phone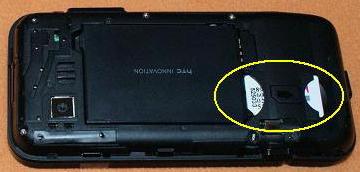 3. Now Press Menu Button and Switch on the G1 Phone using Power button. (Do not release menu Key)
4. Your G1 Phone should start in safe mode
5. Now Press Emergency Dial Button and Type *#06# Key. This will show you IMEI Number.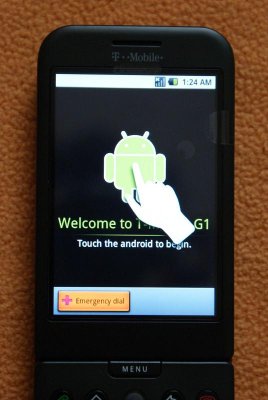 6. Provide this IMEI Number to T-Mobile Customer Care or to www.unlock-tmobileg1.com to get SIM Unlock code
7. Return to Main Screen Menu and Access APN Settings
8. A list of preset APN will be shown, you need to click on New APN button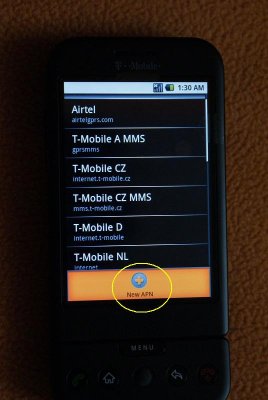 9. Now Scroll down on New APN setting Screen and enter following details
MCC (Mobile Country Code), and MNC Mobile Network Code
Here is list of World MCC / MNC codes.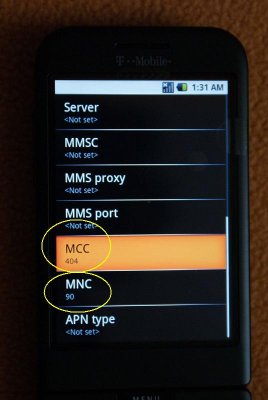 10. Now Switch off your G1 Phone
11. Insert Non T-Mobile SIM card which you have planned to use with G1 Phone.
12. Switch on Your G1 Phone.
13. A Prompt for Enter Unlock Code with popup, enter correct Unlock Codes which you have received from T-Mobile. (Entering Wrong Unlock code more then Three time may permanently hardware lock your g1 Phone)
14. After Successfully Entering Unlock Code will activate your GPRS / EDGE / 3G Data Service will be active as per APN Setting .
15. Type Google User name / Password in Signing Window and this will Activate the Unlock G1 Device on your SIM Card.
16. Enter remaining Data Setting like MMS / Home Page / Port to Active other Data Service.
Here is Sample Setting for AT&T Data Service for Unlocked G1 Phone
Menu button -> Settings -> Wireless Controls -> Mobile Networks -> Access Point Names -> Menu Button > New APN
Name: AT&T
APN: wap.cingular
Proxy: leave blank
Port: leave blank
Username:[email protected]
Password:CINGULAR1
Server: leave blank
MMSC: http://mmsc.cingular.com
MMS Proxy: wireless.cingular.com
MMS Port: 80
MCC:310
MNC:410
APN Type: leave blank
Please keep in mind that Non T-Mobile SIM card which you have planned to use with G1 Phone must have Data Plan or GPRD service activated so that your g1 Phone will be able to connect to Google to activate your G1 Phone.
Video on How to Unlock T-Mobile G1 Phone (Google Android)