Do you feel the need to create a real time backup for a local or server folder? If yes, then "Yadis! Backup" is precisely what you need!
"Yadis! Backup" is an excellent piece of freeware that is compatible with computers running the Windows OS. The function of the application is to provide you with automatic backup jobs for contents in folders or on a FTP server. Features that make the application stand out include creating multiple backup jobs, grouping them, setting up automatic back ups, letting you control the actions on which the backup is executed, and more.
To get started with the application, you must first download and install its setup file which is sized at nearly 1 MB. With the app open, you can begin creating your backup tasks. The backup task can select the source folder from your local Favorites, a local folder, or an FTP folder. The first step involves selecting the backup type, as you can see from the screenshot above.
For each task that you add, a title and description can be set. The description can be particularly useful in case you have setup numerous backup tasks and have forgotten the purpose of a particular one.
The next step involves selecting the source and destination folders of the backup. You can opt to maintain the full path of the source folder (in case you are creating multiple backup tasks into the same destination folder) and you can have the application verify only those files which have a later modification date than the ones already backed up. Additionally, in case the destination folder is on a USB flash drive or other removable media, you can have the app ensure that the backup is created on a particular USB – not just any device that you plug in.
Users can specify which actions are considered for the backup. For example, you can have the app create a backup for new files only while ignoring updated and deleted files. And in case of monitoring updated files, you can select precisely which attribute(s) are monitored: file name, directory name, file size, or file attributes.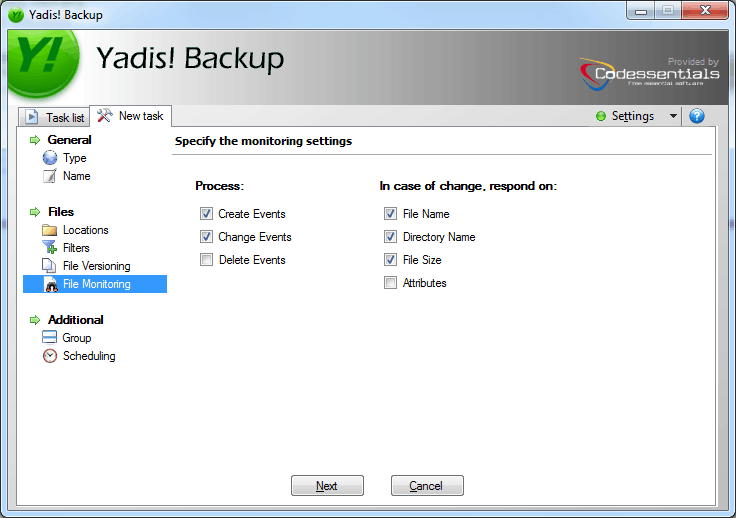 The backup tasks you create, all appear in the app's main window. The files are then automatically backed up by the application in real time, without prompting you for anything – unless you have set the task for manual backup instead of the automatic one.
In order to view the log of the app, you can head to its Messages and see the activity details.
As you can see, "Yadis! Backup" is indeed a powerful backup utility that is not only small sized but also time efficient as it carries its work in the background without interrupting the user's work with prompts.
You can get "Yadis! Backup" from this link.