We've discussed about plenty of Chrome web store applications in our blog. Today we are going to discuss about a new extension called "Gmail Print All" for Chrome. We all know Gmail is one of the most used web based email services on the Internet. Many companies and individuals depend on Gmail for their daily official and personal activities. This Gmail Print All extensions for Chrome helps to backup your email messages in Google drive and take a printout of a bunch of emails in a simple way. This extension will be very helpful for people who receive and send lots of emails daily and want to backup their messages instantly.
Adding this extension to Chrome is very simple. Just go to the web store and sign in with the Google account you need to take a backup or printout. Once you sign in with your account, search for "Gmail Print All" extension in the web store. After you add this extension, it will ask you for a security confirmation to access your Gmail account. Confirm the access and you will redirected to new window as shown in the screenshot below. Once you reach that page, first you need to select which part of your Gmail account you need to take a printout. You can take printouts of Sent mail, drafts and the labels you have created. Select the label from the drop down box on the screen and click the print to drive icon below.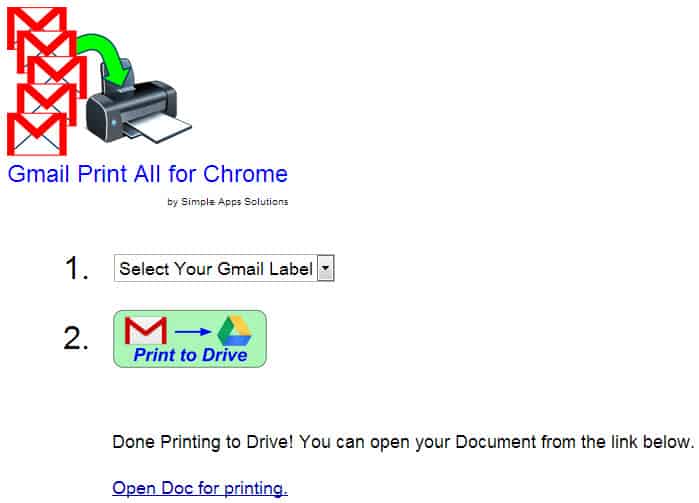 Once you print that particular label to your Google drive account, all the email messages will be printed in a separate document in Google Docs. Each message will be on a separate page for your convenience. You can remove the pages you want and print the document quickly from the Google Docs. Also if you want you can save that document in your Google drive, which will act as a backup for your email messages. So the next time you take a backup, you can delete the previous document. Though this extension looks very simple, it will be very helpful when you want to print large of emails at a single time.
You can save and download the documents in any format you want. People who have saved their invoices, tax forms in their email can take printouts quickly using this extension. So try this extension in your Chrome browser and share your experience with us in the comment box.