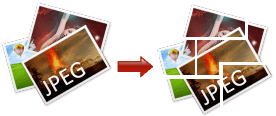 You may sometime need to split large image files into small part in order to upload on website or to display on webpage as loading multiple images could be faster than loading one single large image file. We can split images in Photoshop or other image editing tool but it could be time consuming and not suitable if you need to split many jpeg images.
Here is java based free utility Mapsplitter a handy tool for splitting jpeg image files into multiple jpeg files. MapSplitter is java based utility and can work on any operating system which supports java.
MapSplitter – Split Jpeg images into Multiple Jpeg files.