Music is an evergreen field, even now if someone comes with an innovative product or an application for music, people are still ready to buy it. That's why we have millions of apps and thousands of devices available for music. Previously I wrote about a chrome extension to convert your Google drive into a music player and an excellent DJ Mixer App for Android. Today I came with a new web application called "Seevl", which is an ultimate music search engine app with a social network.
To start with Seevl, you have to sign up with your Google or Facebook account. Without an account, you can still search and discover music, but if you want social feeds and other user's playlist, you need to create an account. Once you complete the registration process, the app will take you to your profile. There you can see a menu bar with different options and a search bar to find your favorite music. The first option world shaped icon will take you to the dashboard, where you can see your social feeds, library, playlists, etc.
Seevl has an option to follow other users on the network. Based on the artists, genres and music you add, the app will suggest people for you. So, you can easily find people who like your favorite music. So, the following and followers information will be available in the "Social Feeds" option. In the third option, you can search artists, songs, genres, etc. There is an inbuilt music and video player at the bottom of the screen. So you can listen to songs and browse through the website without any disturbances. It is a music Wikipedia, when you search for the artists their complete biography will be available on their dedicated page.
Settings of the application are available in the right corner of the menu bar. You can change the privacy settings, sharing options and notifications in the settings menu. You can become a fan of your favorite artists inside the application  to get the latest updates and suggestions. If you have signed up with Facebook account, all your favorite music on the app will be shared with Facebook automatically. While music plays on the app, you will get an option to buy the music from iTunes.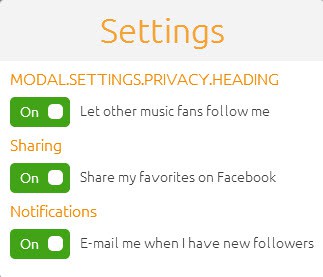 If you are a music lover, you should definitely try this application. Don't forget to share your experience with us in the comments. Thanks for reading, do share this post with your friends.