DocDroid is a free to use web service that lets people securely share any type of digital document online. The website removes the need to install third party application in order to read the contents of a document. Often the purpose of downloading a digital document is to merely read what it contains and not to modify its contents; in this scenario, DocDroid works like a charm and provides users with excellent convenience.
To begin using DocDroid head on over to its homepage and register yourself for an account. Although this is not a compulsory step, it will help you in tracking the documents that you have shared through the website.
After creating an account (or not creating one, depending on your choice), you can begin uploading a document from your computer to DocDroid's servers. You will be impressed by the wide range of digital file formats that are supported by the website. These formats include the following file extensions: PDF, DOCX, DOC, ODT, RTF, OTT, XLS, XLSX, TXT, PPT, PPTX, ODP, and more. When you have selected your file, its upload commences and the file size is displayed along with an indicator of the conversion process.
When the document is fully uploaded and converted, you are provided with a direct link to the DocDroid page of your uploaded document, accompanied by a shortened link; the latter will be very useful in case you are mass-sharing the file via a social networking status update. Online social network sharing buttons for Twitter, Facebook, and Google+ are present right next to the links.
If you want to keep access to the document private, you can lock it with a password by clicking on the gears icon. This icon will pop up a window where you can type in a file reading password.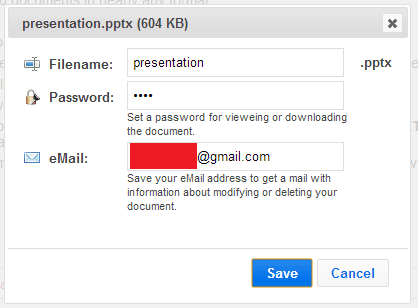 You can also optionally provide an email address on which a notification email will be sent whenever a reader changes the access preferences of the document.
When a reader visits the document link you that share with them, they will be asked to type in the password, in case you had specified one.
Once the password is inputted, the document is opened in the site's own reading interface.
Options are present for zooming into the document and navigating through its pages. The reader is also able to download the document in various file formats; buttons for download are available in the top right corner.
As you can see, DocDroid makes sharing documents online greatly easy. Thanks to it, regardless of the format that your digital document is in, it can now be easily read by whomever you share it with online.
You can check out DocDroid by clicking this link.