A few months ago, I lent my Corsair 8GB flash drive to a friend of mine. After using it for about a month, he returned it to me. While I was glad to be finally reunited with my drive, I could not help but notice a lag in its performance: reading and writing speeds on the drive were noticeably slower than what they used to be. And so began my search for a reliable testing tool for removable drives. After a lot of e-hunting, I finally found what I was looking for: Virtual Console's 'USB Flash Drive Tester'.
USB Flash Drive Tester is a tool with a name that completely defines its function. Put simply, this application can be used to effectively detect bad and unstable sectors in your removable drives. Such a bad sector detection test is a good idea to run when you suspect that your device's performance to wane.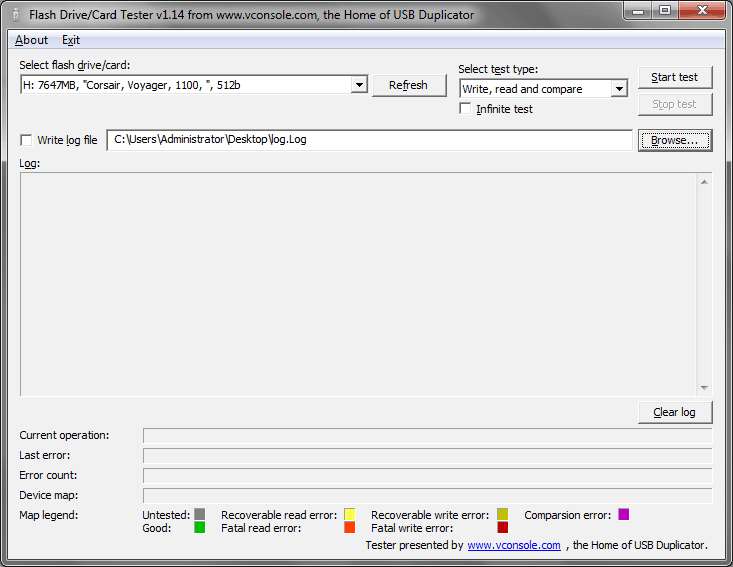 To get started with the application, you must first head on over to Virtual Console's website and then download the app's setup file. This setup file comes in the EXE format and is sized at nearly 0.5 MB. Note that this application is only compatible with computers that are running Windows operating systems.
Once you have the application installed, plug your removable drive into your computer. With the drive plugged into your PC and it detected by your OS, fire up 'USB Flash Drive Tester'. You will see something like in the image above. You can select your drive from the dropdown in the top left corner of the window. Test type can be selected from the dropdown in the top right corner. I recommend choosing the "Write, read and compare" test as it is the most thorough one.
Once you have selected your options, you can click on the "Start test" button to initiate your drive's scan of bad sectors. You are shown a confirmation dialog to proceed with the test; the confirmation reminds you of the fact that the test will erase any existing data on your drive.
Testing begins when you click the "Yes" button on the confirmation dialog box. The progress of the scan is displayed in the bottom pane of the app.

The current operation, last error, error count, device mapping bar, and a map legend, are all displayed in the bottom pane. Elapsed time and remaining time can be found in the current operation section.
Had you marked the "Write log file" checkbox in the main window before initiating the test, your log entries will be populated in the center pane of the app's window.
And in these simple steps, you will be able to detect any bad sectors in your drive.
My Corsair testing negative for bad sectors, fortunately. I do feel good however, about knowing that I can have my flash drive tested for bad sectors anytime that I want.
You can get "USB Flash Drive Tester" for free from here.