Back in the old days, it was easy to download any software and utilities thanks to the direct download links offered by the software developers, which also meant you could carry your favourite software in your portable drive and install it on the PC whenever and wherever you want it.
But with the start of App store revolution, the only way you can download and install an app today is, using official app store website just like Apple App Store for iOS devices and Microsoft Store apps for Windows 10 apps.
However, there can be several reasons when you would like to have a direct download link instead of going through the Microsoft Store apps website to download and install the desired Windows App. For example, if you have multiple Windows machines or Windows 10 devices, it would be painful to install Windows app one by one manually via Microsoft Store App website.
Direct Download Link Of Windows Store Apps [.Appx  Files]
Not anymore, thanks to Wzor and his team, the Adguard Store has been updated to support Windows Apps. All you need to do is grab the link of an app from the Microsoft Store Apps website that you wish to download and paste it in Adguard store website.
The Adguard will then extract all the available download links of the selected app along with other information such as size, hashes and link expiry time. Then you can download AppxBundle and EAppxBundle files and install it on the desired Windows machine.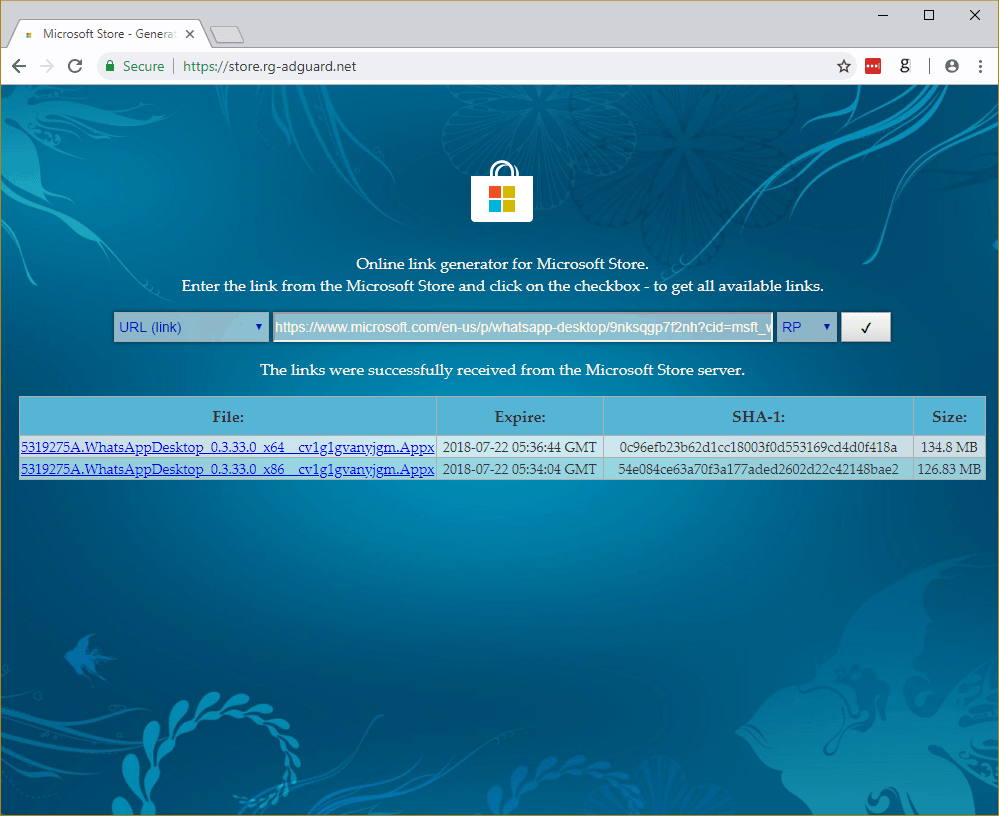 You can also get the App download links using ProductID, ProductFamilyName and CategoryID. You can also select an option of Windows Insider, Release Preview or Retail (Default OS).
Please keep in mind, in order to install AppxBundle and EAppxBundle outside of Microsoft Store App, you will have to enable and activate Windows 10 developer mode. If you are unsure of how to do it, then follow the below steps.
How to Activate Developer Mode on Windows 10
Press Win + I keyboard shortcut key to open Windows Settings

Click on Updates & Security
Under Update & Security, click on For developers option on the left side navigation list.

Now check the Developer Mode radio box
Click on "Yes" when you see the developer mode warning message. Do make sure to read and understand the risk of turning developer mode on.

Wait for Developer mode packages to finish installing. A message 'Developer Mode package installed. Remote tooling for desktop is now enabled' will be displayed once the process is complete.
Now you can simply double click on .Appx file that you have downloaded from the adguard store to install Windows app. To update an app, you will have to use the EAppxBundle files.
Some may argue, this would add to paid apps piracy. Fortunately, this has been taken care of by the devs as all the paid apps listing is removed from search results, only free apps can be downloaded in this way.
[Via –
Ghacks
]