GIF animations can be found all over the web. Thanks to numerous freeware available online, you can create GIF animations of your own using images that you have or even videos that are stored on your computer. Unfortunately, in order to view these animations, you must first open your web browser and then load the animation into it. You do this because from Windows Vista onwards, native Windows support for GIF animation viewing is no longer available.
If you work with GIF animations a lot and you find it very inconvenient to open up a web browser each time you need to open an online GIF animation, then you should definitely download and install an application called 7GIF.
7GIF is a small yet very useful desktop freeware utility for Windows users who work a lot with GIF animations. Primarily, the application targets users of Windows Vista, Windows 7, and Windows 8 since these operating systems do not have native GIF animation viewing functionality in their image viewers. With 7GIF installed, you get a fast and responsive application that not only quickly opens up your GIF animations but it also lets you control the animation's speed, save its frames, and a lot more. In order to get started with using the app, you must first grab and install its setup file that has a size of less than 1 MB. The second step is to have the app associate itself with GIF format files; from then onwards, double-clicking any GIF file will open it in 7GIF. When the animation is opened in 7GIF, you will find numerous controls at the bottom pane of the application.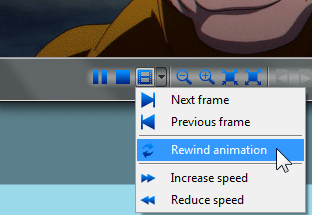 Amongst other things, you will find helpful buttons to play, pause, and stop an animation. You can also reduce or increase the speed of the animation. Watching the animation in reverse is also possible. If you want to save a particular frame from the animation, simply pause / stop the animation on the frame that you want, and select the Save Frames options from the last available button in the bottom pane of the app.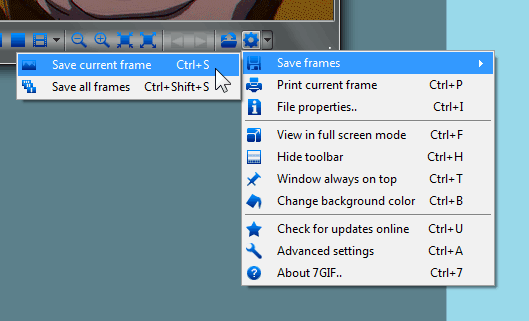 In addition to helping you save a single frame, you can opt to save all frames being shown by the GIF file. When you decide to save the frame, the image quality of the exported frame can be set according to your preferences.
The app also offers various others GIF-related features such as printing the currently shown frame, changing the background of the GIF animation, and more.
Overall, this tiny little tool can help out Windows users a lot, simply by providing them with an easy way to quickly view offline GIF animations on their system.
You can get 7GIF from here.