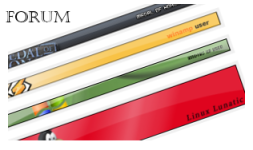 Forums are one place to discuss about latest Technology, Trend, and Solution of problems, troubleshooting or seeking advice from pro-Technical members. Forum concept has been on internet from the start of internet boom.
Forum signatures also called as Forum Sigs – Siggy or User Sigs, are small graphics which are commonly used as forum signatures. User Sigs/Userbar show what you like by displaying a small, attractive and eye catching graphic.
However having cool and eye catchy forum signature requires knowledge of Photoshop like tool and good designing skills. Not all users can have these skills. To help out those types of user there are several website which can let you to build forum signatures of their choice.
After searching for hours I got good collection of best websites for generating forum signatures. Here is list of,
Top 6 Best Free Online Forum and Email Signatures (Sigs) Generating Websites.
1) Forum signature generator : –
This is best forum sigs generating website it has lots of signature templates with many options to customize signatures, you can set your own image, Signature width, height, Text , Color, Angle, set position of text with x-y coordinates
Sample Forum Signature From Forumsignaturegenerator

2) Needasig : –
This website lets you to generator forum as well as email signatures and icons. It has more then 1500 different styles to choose from
Sample Forum Signature From Needasig.com

3) Spyber :-
Pretty nice sigs template for creating Free Forum Signatures. This website lets you to have dynamic forum signatures which displays forum visitors IP, Browser and operating system specification, City, Country, ISP.
Sample Forum Signatures From Spyber

4) Usersigs :-
This website has collection of forum signatures based on various categories like Internet, Software, Music, Celebrities, and Technology.
Sample Forum Signatures From UserSigs

5) Signaturebar :-
This is some what different website then reset of Siggy generating websites. This website lets you to generate animated userbar using different images. Here users shares their forum signatures which you can use it if you like it.
Sample Forum Signatures From Signaturebar
6) Siggymaker.gfxedit.com :-
This website lets you to create cool Userbar, this website is still in under construction and soon going to get big forum signature galary.
Sample Forum Signatures From Online Siggy Maker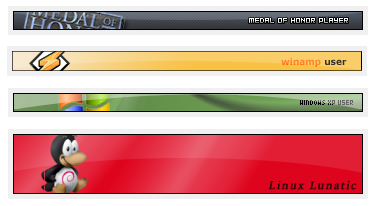 Forum signatures are becoming asset of forum users, a place to do a showoff and feel proud. Latest trend among regular forum users is having Beautiful, Eye caching, attractive types of signatures.
Use above free online forum sigs, signature generator list wisely to have cool forum signatures.