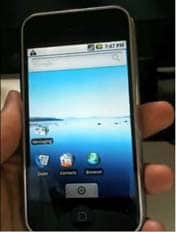 We have seen Android being ported to WinMob devices like Xperia X1 and Nokia  N900 Meamo phone but Android port on iPhone, no one ever thought of it. Yes, dev team member & iPhone hacker Planebeing has successfully ported Android to iPhone 3G which he says "It should be pretty simple to port forward to the iPhone 3G. The 3GS will take more work", on his blog Linux on iPhone.
Back in 2008 planetbeing has done the job of reverse engineering Apple's hardware drive and he was the guy who had successfully ported Linux kernel 2.6 to Apple iPhone.
You can now dual boot & run android 1.6 donut on iPhone. Android on iPhone 2G works pretty smooth without any hiccups and pre-build image of Android for iPhone 2G is already available for download.
Android on iPhone 3G Video
Update: Sorry the video shows android on iPhone 2G, not iPhone 3G