When it comes to Windows OS most users prefers to modify its look and behavior by adding themes, changing logon screen, changing icons etc. We have covered several tools and tips to modify your Windows 7 Now here is yet another small utility which lets you to change Windows 7 Start orb.
Windows 7 Start Orb Changer is a free tiny portable tool that allows you to change your Windows 7 start orb with one click. Windows 7 Start Orb changer takes bitmap file of new orb you want to replace with original orb file.
You can use Google to search and download orb files.
Windows 7 Start Orb Changer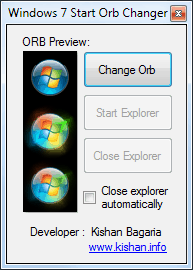 Windows 7 Start Orb Changer works with Windows 32-bit and 64-bit and comes with following eight sample start orbs.