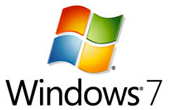 Most of us have come across Windows BSOD (Blue screen of death) infamous feature of Windows XP & Vista. Windows 7 may be quite stable and doesn't crash with BSOD but Microsoft has not completely get rid of BSODs. Windows 7 can also be affected by Black Screens of Death which simply freeze up the computers forcing users to stare at nothing more than a blank, dark desktop.
To fix Black Screen of Death of Windows 7 Prevx's David Kennerley has developed a nifty app "Black Screen Fix" to fix the vast majority of issues that cause Black Screens.
Black Screen Fix Pervex
The root cause of the latest wave of Black Screens of Death has been identified as a modification in the Windows Operating Systems lock down of registry keys. It appears that the updates released this month by Microsoft cause certain registry keys to be invalidated, a move that, in its turn generated Black Screen of Death errors.
If you are facing Windows 7 Black Screen of Death then download Black Screen Fix and run it on your system. A reboot is required after you run this utility.