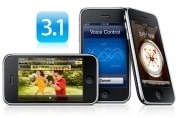 As per announcement of Apple at Rock and Roll event iTunes 9, iPhone OS 3.1 for iPhone and iPod touch and new line of iPod Touch are available. You can download latest version of iTunes 9 for free and iPhone users can update to firmware 3.1 for free unfortunately iPod Touch users need to pay $4.95 to upgrade to firmware 3.1.
In past we had written guide how to update iPod Touch to 3.0 firmware for free and now today we are here with one more guide and this time we will tell you how to update iPod Touch to 3.1 firmware for free.
How to Upgrade/Update iPod Touch 3.1 Firmware For Free
1. Download & Install iTunes 9
2. Download iPod Touch 3.1 Firmware using below links
iPod Touch 1G 3.1 Firmware
iPod Touch 2G 3.1 Firmware
P.S Don't use Safari or IE instead use Firefox to download firmware file. Use "Save As Link" Option to save the file on your machine. If saved file extension is .zip then change it to .ipsw.
3. Connect your iPod Touch
4. Start iTunes 9 and select iPod Touch from device list
5. On Windows Click Shift+ Restore
On Mac Click Option+Restore
6. Locate iPod Touch ipsw files downloaded in step 2
7. Do not disconnect till iTunes has completed updating iPod Touch
That's it, Now enjoy your iPod Touch 3.1 Firmware.