In past we had posted hack to enable Multiple users access (Concurrent sessions) for Remote desktop on Windows 7 Beta. For those who don't know what's a Concurrent session for Remote Desktop, with remote desktop you can connect to windows computer remotely however in Windows 7 there is restriction and only one user at a time can connect to Windows 7 Computer via remote desktop.
Unfortunately that hack is not compatible with latest Windows 7 RTM Build.  But don't worry we have got solution to enable Concurrent Session for Remote desktop on final Windows 7 Build thanks to missingremote.com.
Follow below instructions to enable Concurrent Sessions in Windows 7 RTM
How to Enable Concurrent Sessions for Windows 7 RTM
1. Download Concurrent Sessions enabler file
2. Once downloaded, extract the files into a directory (for the purposes of this guide, it will be assumed that the files have been extracted to the folder C:\Win7RDP )
3. Open Windows Explorer to the above folder
4. Right Click on "install.cmd" and select "Run as Administrator"
5. Wait for the script to run entirely. At the end, you should see something similar to the below…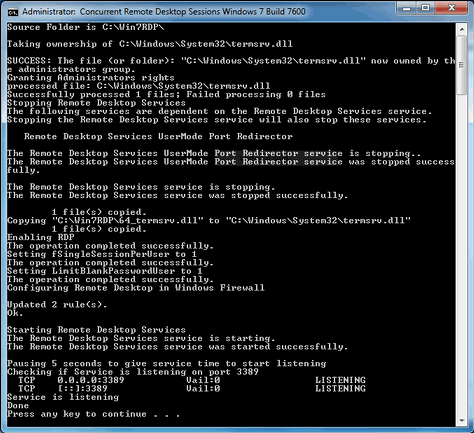 That's it.