By now everyone knows about Windows 7 taskbar aka superbar which shows application & program icons instead of name. Whenever you start any application or program, icons are added to left of the windows 7 taskbar next to start Orb.
If you wish to have taskbar icons at the center of Windows 7 taskbar to have dock like look then here is tutorial on how to do it from thewindowsclub.
How to Center Taskbar Icons in Windows 7
1. Create one empty folder on desktop or in my documents folder (name is as NTB)
2. If you have locked your taskbar then unlock it by right clicking on taskbar and selecting "lock the taskbar"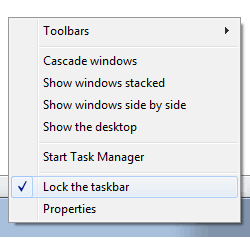 3. Right click on taskbar & select new toolbar option from toolbar sub-menu & select empty folder NTB created in step 1.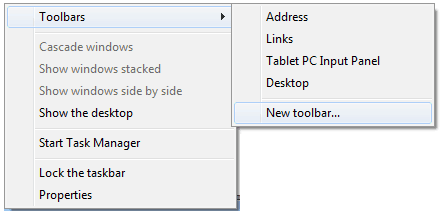 4. Now right click on the new toolbar and uncheck Show Text and Show Title.
5. Next drag it (dotted seperator) to the left side, between the start orb and taskbar icons and release it.
6. Center align the taskbar icons by dragging dotted separator present near taskbar icon and start orb towards right of new toolbar separator & Lock the taskbar.