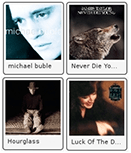 Music lover usually prefer to purchase Original Music Album CDs or download music legally from online music store to save time and money. But while purchasing songs/music album online you will miss creative Album Art cover which comes with Music CDs.
You can download ART cover for any music album from internet but it does require lot of time and searching skills. To simplify your task of searching and downloading Album ART Cover here is useful freeware application, Album ART Downloader.
The Album Art Downloader is a simple, small and easy-to-use program that is designed to make your life easier to find and update their album art for their music collection. The sources for the pictures can be defined by creating plugin scripts.
Screenshot of Album ART Downloader 0.28.1