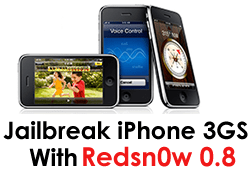 The wait for iPhone 3GS owners was over when Geohot had released first iPhone 3GS jailbreak tool preplera1n last week. However most of the users were upset with iPhone Dev team's decision to postpone the iPhone 3GS jailbreak. For those users here is good news iPhone Dev team has release Redsn0w 0.8 which also includes the support for iPhone 3GS 3.0 jailbreak.
Initial release of Redsn0w to jailbreak iPhone OS 3.0 was buggy and didn't work on PPC based Mac. After that iPhone Dev team has released redsn0w 0.7.2 fixing bugs and crash issue and now redsn0w 0.8 is here.
Redsn0w 0.8 is available for download for Windows, Mac as well as Linux support too. Most exciting part is support for iPhone 3GS 3.0 jailbreak. Those users who have waited for iPhone Dev team's jailbreak tool can now proceed for iPhone 3GS 3.0 jailbreak with redsn0w 0.8.
Update: Redsn0w 0.9.6rc9 has been released to jailbreak 4.3.1 iOS
Download Redsn0w 0.8 to Jailbreak iPhone 3G/3GS 3.0 (Torrent)
Download Redsn0w 0.8 for Windows